2009: #100 – Practical Demonkeeping (Christopher Moore)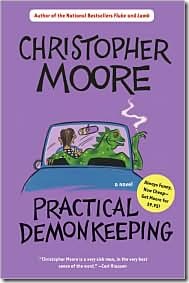 Book #100 was Practical Demonkeeping by Christopher Moore.  The back of the book reads:
In Christopher Moore's ingenious debut novel, we meet one of the most memorably mismatched pairs in the annals of literature. The good-looking one is one-hundred-year-old ex-seminarian and "roads" scholar Travis O'Hearn. The green one is Catch, a demon with a nasty habit of eating most of the people he meets. Behind the fake Tudor façade of Pine Cove, California, Catch sees a four-star buffet. Travis, on the other hand, thinks he sees a way of ridding himself of his toothy traveling companion. The winos, neo-pagans, and deadbeat Lotharios of Pine Cove, meanwhile, have other ideas. And none of them is quite prepared when all hell breaks loose.
I thought this was just okay.  I found it somewhat meandering and really slow to get to the point.  Much like in The Stupidest Angel, the best part of the book is when the final action begins. I'm not feeling real great about these early books of Moore's, and I'm glad he improved as he went along.
Musings of a Bookish Kitty: Review of Practical Demonkeeping by Christopher Moore
Ace and Hoser Blook: Practical Demonkeeping
Audiobook length: 7hrs 30min | Word count: 70,764
2008: The Dirty Secrets Club (Meg Gardiner)
2007: Fantasy Lover (Sherrilyn Kenyon)
2006: Final Target (Iris Johansen)
Used in these Challenges: 100+ Reading Challenge 2009;