2011: #11 – The Pickup (Nadine Gordimer)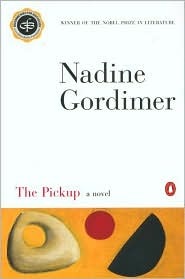 Book #11 was The Pickup by Nadine Gordimer.  The back of the book reads:
When Julie Summers's car breaks down on a sleazy street in a South African city, a young Arab mechanic named Abdu comes to her aid. Their attraction to one another is fueled by different motives. Julie is in rebellion against her wealthy background and her father; Abdu, an illegal immigrant, is desperate to avoid deportation to his impoverished country. In the course of their relationship, there are unpredictable consequences, and overwhelming emotions will overturn each one's notion of the other. Set in the new South Africa and in an Arab village in the desert, The Pickup is "a masterpiece of creative empathy . . . a gripping tale of contemporary anguish and unexpected desire, and it also opens the Arab world to unusually nuanced perception" (Edward W. Said).
Truth be told, I really didn't like this story. On a couple of levels.
First, the plot. I found Julie to be utterly insufferable. Every decision she makes is not real, it's just another way for her to do exactly what everyone else doesn't want her to do.  At nearly 30, she's way too old for the teenage rebellion. She and her "friends" at the cafe live their entire lives trying to meet some sort of moral code that they think makes them superior to everyone else while they are completely unappreciative of what they do have. Her relationship with Abdu is just a way for her to take her rebellion to its outer limits. Abdu's family in the "Arab village" (more on that later) is infinitely more interesting than Julie or any of her friends. My only consolation is that Abdu also finds her insufferable from time to time.
I realize this assessment is entirely personal.  People with these sorts of airs and pretensions get on my last nerve.
Second, the writing. Gordimer does her very best to make you need to read every passage at least twice to figure out what she is trying to say.  It got to the point that I felt like I was watching a movie through a vaseline smeared screen; you have to squint to see what's going on. And then there's the matter of this "unnamed Arab village". The author is very determined that this "unnamed village" be mysterious and a stand-in for the average Arab village, but then she drops a clue that told me within 2 minutes of googling that they're in Morocco.  So if you want it to be unnamed and representative, why drop that clue?  I don't get it. And then there's the brief side plot of Julie's uncle being unjustly accused of sexual harassment. It had absolutely zero effect on the plot, so it felt like the author just wanted to make the point that "Hey! Some women lie about sexual harassment!"
Every drawn out, metaphoric passage felt like the author poking me in the eye and saying "Ha ha! I'm sooooo much smarter than you." What could be an interesting story about the nature of immigration is buried under all this…affectation. It wasn't even a good love story.
So yeah.  Thumbs down.  One of the longest short books I've ever read. Only finished it because it was for my book club.
Other reviews:
'The Pickup' by Nadine Gordimer – Reading Matters
Nadine Gordimer – The Pickup | Incurable Logophilia
Page count: 288 ('11 total: 2,918) | Word count: 73,242 ('11 total: 1,048,115)
2010: Kitty Takes a Holiday (Carrie Vaughn)
2009: The Brass Verdict (Michael Connelly)
2008: The Bone Garden (Tess Gerritsen)
2007: Prince of Fire (Daniel Silva)
2006: L is for Lawless (Sue Grafton)
2005: The Wide Window (Lemony Snicket)
Used in these Challenges: Countdown Challenge 2011; New Author Challenge 2011; Outdo Yourself Reading Challenge 2011;