2009: #45 – First Family (David Baldacci)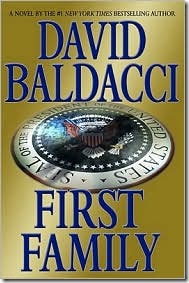 Book #45 was First Family, David Baldacci's fourth Sean King and Michelle Maxwell book.  The back of the book reads:
It began with what seemed like an ordinary children's birthday party. Friends and family gathered to celebrate. There were balloons and cake, games and gifts.

This party, however, was far from ordinary. It was held at Camp David, the presidential retreat. And it ended with a daring kidnapping . . . which immediately turned into a national security nightmare.

Sean King and Michelle Maxwell were not looking to become involved. As former Secret Service agents turned private investigators, they had no reason to be. The FBI doesn't want them interfering. But years ago, Sean King saved the First Lady's husband, then a senator, from political disaster. Now, Sean is the one person the First Lady trusts, and she presses Sean and Michelle into the desperate search to rescue the abducted child.

With Michelle still battling her own demons, and forces aligned on all sides against her and Sean, the two are pushed to the absolute limit. In the race to save an innocent victim, the line between friend and foe will become impossible to define . . . or defend.
Even though this is part of a series, it works pretty well as a stand-alone novel. In fact, I didn't even realize until I started preparing for this review that I haven't yet read the book before it, Simple Genius. I like Sean and Michelle, friends and partners who are still trying to figure out their boundaries and what exactly they are to each other.  The storyline here is one that isn't easy to figure out on your own.  I had a couple of things figured out, but the whole picture was elusive until the end.  I think Baldacci does a good job of playing with the reader's emotions… At first, I felt for the First Lady, who appears to be the long suffering wife of a Clinton-esque husband, forever cleaning up his messes.  At the end, my feelings about her did a 180.  In many ways, she was worse than the kidnapper.  Also, Michelle comes to terms with some of her own demons, and now maybe it's time for her to really heal.  All in all, another winner from Baldacci!
Page count: 464 | Approximate word count: 123,193
2008: Grave Surprise (Charlaine Harris)
2007: Through Violet Eyes (Stephen Woodworth)
2006: Eveless Eden (Marianne Wiggins)
2005: King's Oak (Anne Rivers Siddons)
Used in these Challenges: Spring Reading Thing 2009; The Countdown Challenge; 100+ Reading Challenge 2009; 2009 ARC Reading Challenge; 2009 Pub Challenge; The 999 Challenge;