2009: #46 – Darling Jim (Christian Moerk)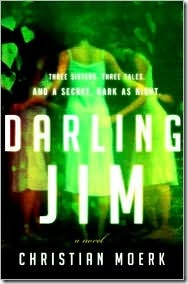 Book #46 was Darling Jim by Christian Moerk.  The back of the book reads:
A modern gothic novel of suspense that reveals, through their diaries, the story of sisters who fall in love with a beguiling stranger, and of the town that turns a blind eye to his murderous ways

When two sisters and their aunt are found dead in their suburban Dublin home, it seems that the secret behind their untimely demise will never be known. But then Niall, a young mailman, finds a mysterious diary in the post office's dead-letter bin. From beyond the grave, Fiona Walsh shares the most tragic love story he's ever heard—and her tale has only just begun.

Niall soon becomes enveloped by the mystery surrounding itinerant storyteller Jim, who traveled through Ireland enrapturing audiences and wooing women with his macabre mythic narratives. Captivated by Jim, townspeople across Ireland thought it must be a sad coincidence that horrific murders trailed him wherever he went—and they failed to connect that the young female victims, who were smitten by the newest bad boy in town, bore an all too frightening similarity to the victims in Jim's own fictional plots.

The Walsh sisters, fiercely loyal to one another, were not immune to "darling" Jim's powers of seduction, but found themselves in harm's way when they began to uncover his treacherous past. Niall must now continue his dangerous hunt for the truth—and for the vanished third sister—while there's still time. And in the woods, the wolves from Jim's stories begin to gather.
This was a haunting story of three sisters who find themselves both directly and indirectly under the spell of "Darling" Jim, a storyteller in the Irish seanchaí tradition. Fiona falls for him first, but soon her sisters Róisín and Aoife are just as affected when he works his magic on their aunt. The mailman Niall is sucked into their tragic story when he finds Fiona's diary after she, Róisín, and their aunt are found dead.  But where is Aoife? And what happened to Jim? Niall's compulsive search for the truth takes him back to the town where it all started, and to the second part of the story. I thought this was a wonderful read and I was completely sucked in.  I loved how Moerk tied in the story Jim tells to the overall book, and still leaves us a touch of mystery at the end.
Page count: 304 | Approximate word count: 91,200
2008: A Treasure Worth Seeking (Sandra Brown)
2007: Manhunt (Janet Evanovich)
2006: Myths, Lies & Downright Stupidity (John Stossel)
2005: In the Cherry Tree (Dan Pope)
Used in these Challenges: Spring Reading Thing 2009; The Countdown Challenge; 100+ Reading Challenge 2009; 2009 ARC Reading Challenge; 2009 Pub Challenge; The 999 Challenge;