2021: #64 – Final Girls (Riley Sager)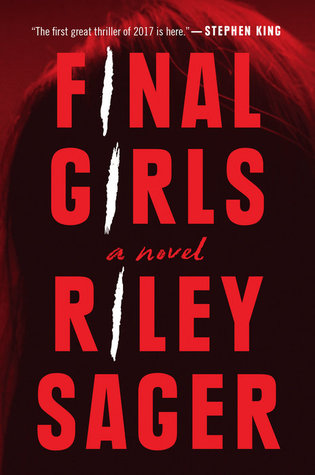 Final Girls
by
Riley Sager
Published by
Dutton
on July 11, 2017
Genres:
thriller
,
suspense thriller
Pages:
352


Ten years ago, college student Quincy Carpenter went on vacation with five friends and came back alone, the only survivor of a horror movie–scale massacre. In an instant, she became a member of a club no one wants to belong to—a group of similar survivors known in the press as the Final Girls. Lisa, who lost nine sorority sisters to a college dropout's knife; Sam, who went up against the Sack Man during her shift at the Nightlight Inn; and now Quincy, who ran bleeding through the woods to escape Pine Cottage and the man she refers to only as Him. The three girls are all attempting to put their nightmares behind them, and, with that, one another. Despite the media's attempts, they never meet.

Now, Quincy is doing well—maybe even great, thanks to her Xanax prescription. She has a caring almost-fiancé, Jeff; a popular baking blog; a beautiful apartment; and a therapeutic presence in Coop, the police officer who saved her life all those years ago. Her memory won't even allow her to recall the events of that night; the past is in the past.

That is, until Lisa, the first Final Girl, is found dead in her bathtub, wrists slit, and Sam, the second, appears on Quincy's doorstep. Blowing through Quincy's life like a whirlwind, Sam seems intent on making Quincy relive the past, with increasingly dire consequences, all of which makes Quincy question why Sam is really seeking her out. And when new details about Lisa's death come to light, Quincy's life becomes a race against time as she tries to unravel Sam's truths from her lies, evade the police and hungry reporters, and, most crucially, remember what really happened at Pine Cottage, before what was started ten years ago is finished.
Our narrator in this book is Quincy Carpenter. Quincy is 10 years out from one of the most traumatic experiences someone could have — she is the only survivor of an attack that killed her college friend group. She can't remember most of it, but she's also never dealt with it with anything more than Xanax and grape soda. This makes her the character most in need of therapy that I've read in a long time. Because of her repression of what happened to her, she's also completely rejected the moniker of "Final Girl" that society has placed upon her, and any connection to the other 2 "Final Girls".
The other 2 are Lisa, who survived an attack on her sorority house, and Sam, who survived a rampage at the motel she worked at but later disappeared from public view. When Lisa is found after an apparent suicide and Sam shows up at Quincy's front door, Quincy find that she's unable to ignore what happened in her past any longer.
This was a fairly solid thriller that kept me guessing until the end. I had theories about what happened, but little of it turned out to be true. The rapid unraveling of Quincy's carefully put-together life is very vivid, and also not surprising when you realize how little she's dealt with her trauma. Sam is both sympathetic and sinister, obviously someone who is used to operating under the radar. The one really blah character was Quincy's boyfriend Jeff. He is a public defender but he just has no color to him. He only exists to play the savior to the accused and someone else to encourage Quincy to ignore her trauma. You get the feeling that if she did start to go to therapy, he wouldn't be able to handle it.
Overall, I enjoyed this read, and will definitely read another Riley Sager book.
Other reviews:
"I loved the concept of 'Final Girls' it had me enrapt from the first page and I am keen to read more from Riley Sager, he really knows how to exude atmosphere from the page. There was a reveal in every chapter, so the pacing was set at a cracking pace from start to finish." — Casey Carlisle
"From the revelation about what actually happened at Pine Cottage, who IS Sam, and how Quincy came to the conclusions she did… it was just wild. I cannot stress how good the twists were and I think without any of them, the book wouldn't be the same." — Royally Pink
"Final Girls is a gritty, intriguing and fantastic read. It in some ways resembles the typical 80's slasher films. If you enjoy watching films such as Scream, Friday the 13th and A Nightmare on Elm Street, then this is definitely the book for you." — For the Love of Books