2009: #5 – Five on a Treasure Island (Enid Blyton)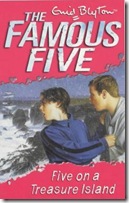 Book #5 was Five on a Treasure Island, the first book in Enid Blyton's Famous Five series. The back of the book reads:
The very first "Famous Five" adventure, featuring Julian, Dick, Anne, not forgetting tomboy George and her beloved dog, Timmy! There's a shipwreck off Kirrin Island! But where is the treasure? The Famous Five are on the trail – looking for clues – but they're not alone! Someone else has got the same idea. Time is running out for the Famous Five, who will follow the clues and get to the treasure first?
This is a YA/children's series I'll be working on for the Daring Book Challenge. It's the first I've heard of this series, and I wish I'd known about it as a child. I quite enjoyed it! In this first book, you are introduced to siblings Julian, Dick, and Anne, their cousin George (the ultimate tomboy), and her dog Timmy. I wasn't expecting the fifth of the five to be a dog, but he turns out to be a pretty important part of the team. I thought this was a great little adventure story with some twists I didn't expect, and it holds up well nearly 70 years after it was written. I'll have no problem listening to/reading more of these.
Audiobook Length: 6hrs 30m| Approximate word count: 30,000
2008 – I Heard That Song Before (Mary Higgins Clark)
2007 – Up Island (Anne Rivers Siddons)
2006 – The Big Love (Sarah Dunn)
2005 – The Reptile Room (Lemony Snicket)
Used in these Challenges: The Genre Challenge; 100+ Reading Challenge 2009; 1st in a Series Challenge; 2009 Audiobook Challenge; The 999 Challenge; A-Z 2009 Challenge; Daring Book Challenge – Tract 4