2009: #51 – The BFG (Roald Dahl)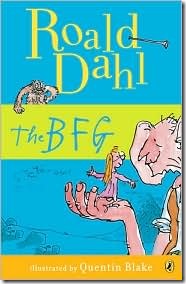 Book #51 was The BFG by Roald Dahl.  The back of the book reads:
The BFG is one of Dahl's most loveable character creations. Whether galloping off with Sophie nestled into the soft skin of his ear to capture dreams as though they were exotic butterflies; speaking his delightful, jumbled, squib-fangled patois; or whizzpopping for the Queen, he leaves an indelible impression of bigheartedness.
I liked this quite a bit more than Matilda, maybe because it is obviously fanciful from the start.  It's hard to fault its "nice guys win" message. I loved the language in this… the whimsy instantly brings Dr. Seuss to mind.  In fact, I may have to add "whizzpopper" to my own vocabulary (what a fun word to introduce to my niece and nephew!).
As a side note, this audio book was narrated by the tragically departed Natasha Richardson, and she did a wonderful job.
Audiobook length: 3 hrs 55 min | Word count: 36,323
2008: Heartbreaker (Julie Garwood)
2007: Darkly Dreaming Dexter (Jeff Lindsay)
2006: The Carnivorous Carnival (Lemony Snicket)
2005: Three to Get Deadly (Janet Evanovich)
Used in these Challenges: 100+ Reading Challenge 2009; The 999 Challenge; Daring Book Challenge: Tract 4;