2009: #50 – Tell No One (Harlan Coben)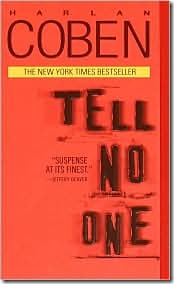 Book #50 was Tell No One by Harlan Coben.  The back of the book reads:
For Dr. David Beck, the loss was shattering. And every day for the past eight years, he has relived the horror of what happened. The gleaming lake. The pale moonlight. The piercing screams. The night his wife was taken. The last night he saw her alive.

Everyone tells him it's time to move on, to forget the past once and for all. But for David Beck, there can be no closure. A message has appeared on his computer, a phrase only he and his dead wife know. Suddenly Beck is taunted with the impossible–that somewhere, somehow, Elizabeth is alive.

Beck has been warned to tell no one. And he doesn't. Instead, he runs from the people he trusts the most, plunging headlong into a search for the shadowy figure whose messages hold out a desperate hope.

But already Beck is being hunted down. He's headed straight into the heart of a dark and deadly secret–and someone intends to stop him before he gets there.
This was Coben's first post-Bolitar stand-alone novel, and he starts out with a theme that reoccurs through many of his stand-alones — the missing and/or presumed dead loved one. It borders a little on over-used, yet it never fails to create suspense. It takes a while in this story before you're really sure whether or not Elizabeth is alive, but figuring that out is far from the whole story. There's a lot going on here — so much that I got a little lost in a few places — but Coben does a good job of tying it all up in the end. And I really did not guess the final twist.  It was twisty enough to make you rethink some of Beck's actions.  Gotta love that!
Page count: 370 | Word count: 81,749
2008: Hollywood Crows (Joseph Wambaugh)
2007: Alone (Lisa Gardner)
2006: The Hostile Hospital (Lemony Snicket)
2005: Two for the Dough (Janet Evanovich)
Used in these Challenges: 100+ Reading Challenge 2009; The 999 Challenge; Read Your Own Books Challenge;