2009: #96 – A Circle of Souls (Preetham Grandhi)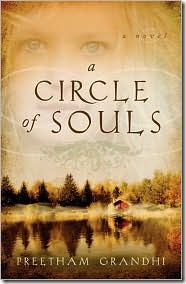 Book #96 was A Circle of Souls by Preetham Grandhi.  The back of the book reads:
The sleepy town of Newbury, Connecticut, is shocked when a little girl is found brutally murdered. With the murderer on the loose, the police desperately look for any clues to lead to his identity. Meanwhile, a psychiatrist in a nearby hospital is also in a desperate search to find the cause of seven-year-old Naya Hastings' devastating nightmares. Afraid that she might hurt herself in the midst of a torturous episode, Naya's parents have turned to the bright young doctor as their only hope. When these two situations converge, they set off an alarming chain of events. In this stunning psychological thriller, innocence gives way to evil, and trust lies forgotten in a web of deceit, fear, and murder.
Grandhi gives us a very interesting combination here… We've got a little bit of Caribbean folklore mixed with some Indian mysticism (I hope that's the right term) in a story that takes place in rural(ish) Connecticut. The concept here, that young Naya is having dreams where she's speaking to a murdered girl, could have been really unbelievable, but Grandhi makes us believe. He also does a really great job showing us the relationship between Naya and the psychiatrist, Dr. Peter Gram.  Unfortunately, that ease doesn't quite transfer to the relationship between Peter and the FBI agent, Leia.  You can tell that he is trying to create some romantic tension there, but it's not quite enough. The pacing in the book is also rather interesting, with a lot of switching back and forth between Peter's and Leia's stories. I think I would have preferred to stick to each storyline a little longer before switching each time, but it didn't interfere with my enjoyment of the story.  One thing he does exactly right is create a very believable suspect that I was questioning until the very end. Despite those few flaws, I thought this was a great debut novel.
Page count: 339 | Approximate word count: 84,750
2008: The Handmaid's Tale (Margaret Atwood)
2007: World War Z (Max Brooks)
2006: When the Sacred Ginmill Closes (Lawrence Block)
Used in these Challenges: 100+ Reading Challenge 2009; 2009 ARC Reading Challenge;