2009: #36 – Matilda (Roald Dahl)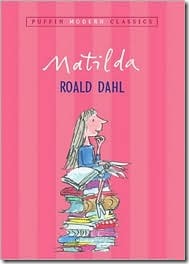 Book #36 was Matilda by Roald Dahl.  The back of the book reads:
Poor, misunderstood Matilda fights back against an unappreciative world through a hidden talent: Matilda is the world's greatest practical joker! Little effort is needed to put one over on her obnoxious parents, but can shy little Matilda handle the formidable headmistress, Miss Trunchbull, and win the respect of every kid in school? Yes!
I missed this book the first time around because I was 10 when it was published and I was a bit precocious and never one to read at my grade level. I wish I hadn't missed it! I'm a big Lemony Snicket fan, and it's easy to see that he's been influenced by Dahl. This is a little dark and violent, but quite enjoyable.  Unfortunately, I enjoyed it more *before* Matilda develops her magical powers, when she was just a really smart child – though Miss Honey's explanation at the end mitigates some of that. I'm looking forward to reading some more of Dahl's works.
Audiobook length: 4hrs 3min | Word count: 39,919
2008: The Unlikely Spy (Daniel Silva)
2007: Trouble in High Heels (Christina Dodd)
2006: The Mummy Case (Elizabeth Peters)
2005: North and South (John Jakes)
Used in these Challenges: 100+ Reading Challenge 2009; The 999 Challenge; A-Z 2009 Challenge; Daring Book Challenge: Tract 2; Daring Book Challenge: Tract 4