2009: #65 – Kitty and the Midnight Hour (Carrie Vaughn)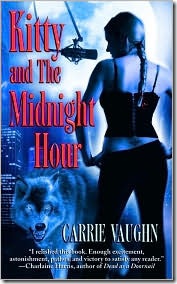 Book #65 was Kitty and the Midnight Hour, the first book in Carrie Vaughn's Kitty Norville series.  The back of the book reads:
Kitty Norville is a midnight-shift DJ for a Denver radio station—and a werewolf in the closet. Sick of lame song requests, she accidentally starts "The Midnight Hour," a late-night advice show for the supernaturally disadvantaged. After desperate vampires, werewolves, and witches across the country begin calling in to share their woes, her new show is a raging success. But it's Kitty who can use some help. With one sexy werewolf-hunter and a few homicidal undead on her tail, Kitty may have bitten off more than she can chew…
I've been meaning to start this series for quite a while, and finally got around to it!  It definitely was worth the wait.  I thought the story was wonderfully written, much better than the books you usually find in this genre.  The story was tight, without a lot of extra analysis or gratuitous sex hanging around.  I liked Kitty quite a bit, especially how she grew and got more confident as the story progressed, and I really liked the way the werewolf and vampire cultures were explained.  I was trying to think of another book I've read that had a werewolf as the main character, and I think this was the first! I'll definitely be continuing this series, and I highly recommend it for anyone who is interesting in the paranormal genre but wants to ease their way into it.
Page count: 288 | Approximate word count: 72,000
2008: The Secret History of the Pink Carnation (Lauren Willig)
2007: Blood Sport (Dick Francis)
2006: Danse Macabre (Laurell K. Hamilton)
2005: Silent Partner (Jonathan Kellerman)
Used in these Challenges: Countdown Challenge; 1st in a Series Challenge; 100+ Reading Challenge 2009; The 999 Challenge; A-Z Challenge 2009; Read Your Own Books Challenge;