2010: #31 – White Witch, Black Curse (Kim Harrison)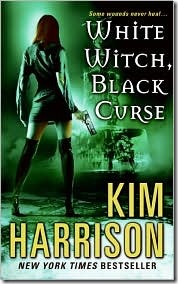 Book #31 was White Witch, Black Curse, the seventh book in Kim Harrison's fabulous Rachel Morgan series.  The back of the book reads:
Kick-ass bounty hunter and witch Rachel Morgan has crossed forbidden lines, taken demonic hits, and still stands. But the death of her lover struck her harder than she ever thought possible. She won't rest until his murder is solved . . . and avenged.

But a new predator is moving to the apex of the Inderlander food chain—and now Rachel's past is coming back to haunt her.

Literally.
Oh, Rachel Morgan series, how I love thee.  Let me count the ways:
You are full of rich, conflicted, and complicated characters.  Your good guys are just a little bad, and your bad guys are just a little good, which makes everyone a lovely shade of grey.  A reader can find themselves wondering if a demon or ruthless business man are really all *that* bad.
You are full of rich, conflicted, and complicated relationships.  In real life, there are layers to relationships, and Harrison knows how to show it in her novels. Rachel and Ivy are more than partners.  They're best friends, and feel a deep loyalty to each other, often without thinking of the consequences to themselves (or thinking of them, and deciding they don't matter).  Jenks has grown into much more than the spunky pixie side-kick.  He is a father figure packed into four inches of determination and love. Even Rachel's relationship with the demon Al has many levels, from resentment to respect.
You take place in an incredibly different yet familiar world. Harrison has managed to build an alternate universe of sorts, one which might have been the same as our real world if not for some diseased tomatoes.
You seamlessly move the major series arc ahead while giving us an interesting immediate concern.
You don't dilly dally with namby pamby background at the beginning of the story — you jump right in to the action! One thing that Harrison is especially gifted at is working the background information into the course of the story without it being overly intrusive.
You build upon current supernatural mythologies without changing too much and without adding cheesy elements. In Harrison's books, the supernatural often feel more natural than the human.
You never ignore the past.  Events that happened in the first books in the series still have an impact in the last books.
This series is really one of the best paranormal series out there.  If you're not reading it, YOU SHOULD BE.
Other reviews:
SciFiGuy.ca: Review – "White Witch, Black Curse" by Kim Harrison
Darque Reviews: Review – White Witch, Black Curse by Kim Harrison
White Witch, Black Curse by Kim Harrison : Book Review
Alpha Heroes: White Witch, Black Curse – Kim Harrison – Review
Beyond Books » Blog Archive » White Witch, Black Curse
Audiobook length: 18 hrs 33 min | Approximate word count: 144,000
2009: Breath of Scandal (Sandra Brown)
2008: Seduction in Death (J.D. Robb)
2007: Exile (Richard North Patterson)
2006: The Snake, the Crocodile, and the Dog (Elizabeth Peters)
2005: H is for Homicide (Sue Grafton)
Used in these Challenges: Four Month Challenge; 2010 100+ Reading Challenge; Audiobook Challenge;