2009: Challenges – Spring Reading Thing Wrap-Up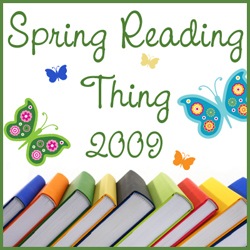 I don't do so great at these seasonal challenges!
Here was my list:
The Kiss Murder – Mehmet Murat Somer
Mixed Blood – Roger Smith
Drood – Dan Simmons
Whiskey Sour – J.A. Konrath
The Uncommon Reader – Alan Bennett
The Love Wife – Gish Jen
Jacob – Jacquelyn Frank
Baltimore Blues – Laura Lippman
The Masque of the Black Tulip – Lauren Willig
Dead Girls Are Easy – Terri Garey
First Family – David Baldacci
Laura Rider's Masterpiece – Jane Hamilton Darling Jim – Christian Moerk
The problem when I make a list of specific books to read is that inevitably, something comes up that makes me unable to read those specific books.  I did read 33 books in the three months, but not the twelve I said I would! Basically, I decided that I really needed to focus on my enormous stack of review books, so that's pretty much all I've been reading the last couple of months.  I did start Jacob by Jacquelyn Frank, but didn't like it.
The lesson I have learned here?  DON'T SIGN UP FOR CHALLENGES WHERE I HAVE TO FOLLOW A SPECIFIC LIST.  I never finish them.