2009: #120 – A Whole New Light (Sandra Brown)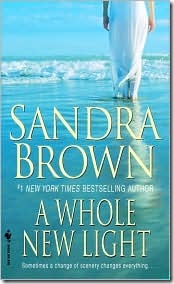 Book #120 was A Whole New Light by Sandra Brown.  The back of the book reads:
From the heat of an Acapulco night…

Cyn McCall knew she could always count on her late husband's friend and business partner, Worth Lansing. He could make her laugh and forget her problems. She could tease him about his many romantic entanglements. The last thing Cyn expected was to find herself longing for a man who could never settle down.
This was just your basic formulaic romance… Man and woman are best friends, man and woman end up on vacation alone together, man and woman discover mutual attraction, but of course, don't know how to handle it, etc, etc, etc.  Throw in a dead husband, a young son, and a prying yet well-meaning mother, and you have a party! That being said, it was a very enjoyable formulaic romance. Sandra Brown sure knows how to give you likable characters that you want to see together in the end.
Page count: 256 | Word count: 45,186
2007: Deja Who? (Julie Stone)
Used in these Challenges: none