2009: #71 – Do Not Deny Me (Jean Thompson)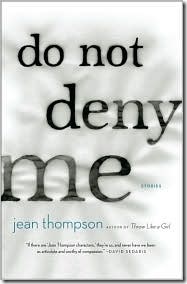 Book #71 was Do Not Deny Me, a collection of short stories by Jean Thompson.  The back of the book reads:
Jean Thompson, heralded as "America's Alice Munro…one of the best contemporary short-story writers" by Kirkus Reviews, delivers twelve exquisite new stories that combine her beloved trademarks of dark humor, seductively sharp wit, and uncanny observations on human nature. Do Not Deny Me is a fictional primer on how Americans live day to day: Thompson's characters — a middle manager in the midst of midlife crisis, an urban single visiting her best friend turned suburban mother, a grieving woman looking for guidance — are instantly recognizable in their predicaments, foibles, and sensibilities.

A brilliantly wrought exploration of the myriad circumstances that Americans are experiencing right now, this superlative collection perfectly captures the joys and amusements, trials and sorrows of its fictional inhabitants. Do Not Deny Me should be savored, word by word.
I don't read many short stories, but I thought this collection was really good.  I think what is most compelling about it is that each story was something that could happen to you, or to someone you know.  There's nothing extraordinary here, just people dealing with their lives.  Funnily enough, the one story I didn't enjoy was the one that shared the collection title "Do Not Deny Me", which had a psychic bent to it. She even brings things full circle a bit, with the final story showing a different side of a character in one of the first ones. Even if you're not a short story reader, there's a lot to like here.
Page count: 304 | Approximate word count: 76,000
2008: Hold Tight (Harlan Coben)
2007: Mr. Perfect (Linda Howard)
2006: Just One Look (Harlan Coben)
2005: Secret Prey (John Sandford)
Used in these Challenges: 100+ Reading Challenge 2009; The 999 Challenge; A-Z 2009 Challenge; Support Your Local Library Challenge;