2011: #21 – Love in Infant Monkeys (Lydia Millet)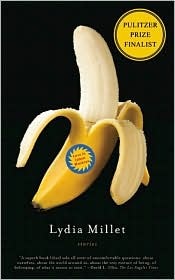 Book #21 was Love in Infant Monkeys by Lydia Millet. The back of the book reads:
Lions, Komodo dragons, dogs, monkeys, and pheasants — all have shared spotlights and tabloid headlines with celebrities such as Sharon Stone, Thomas Edison, and David Hasselhoff. Millet hilariously tweaks these unholy communions to run a stake through the heart of our fascination with famous people and pop culture.

While in so much fiction animals exist as symbols of good and evil or as author stand-ins, they represent nothing but themselves in Millet's ruthlessly lucid prose. Implacable in their actions, the animals in Millet's spiraling fictional riffs and flounces show up their humans as bloated with foolishness yet curiously vulnerable, as in a tour-de-force Kabbalah-infused interior monologue by Madonna after she shoots a pheasant on her Scottish estate. Millet treads newly imaginative territory with these charismatic tales.
This collection of short stories has a peculiar mix of celebrities and animals.  Some border on charming, such as Sexing the Pheasant (Madonna goes pheasant hunting and has a hilarious inner dialogue, complete with congratulating herself for using proper British slang) and The Lady and the Dragon (a Sharon Stone look-a-like is romanced with a Komodo dragon). Others, particularly the title story, Love in Infant Monkeys are disturbing and leave a bad taste in your mouth. So I guess I didn't love it, but I didn't hate it either. I don't think I found as much humor in it as the author intended. It certainly was an interesting theme to build a collection around.
Other reviews:
nomadreader: book review: Love in Infant Monkeys by Lydia Millet
Love in Infant Monkeys by Lydia Millet | bibliographing
Page count: 208 ('11 total: 5,572) | Approximate word count: 52,000 ('11 total: 1,934,552)
2010: Already Dead (Charlie Huston)
2009: Summer Knight (Jim Butcher)
2008: Mirror Image (Sandra Brown)
2007: The Cater Street Hangman (Anne Perry)
2006: A Caress of Twilight (Laurell K. Hamilton)
2005: The Ersatz Elevator (Lemony Snicket)
Used in these Challenges: Four Month Challenge – Part 5; Countdown Challenge 2011; 2011 E-book Reading Challenge; New Author Challenge 2011; Outdo Yourself Reading Challenge 2011;