2009: #72 – Finger Lickin' Fifteen (Janet Evanovich)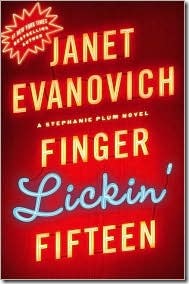 Book #72 was Finger Lickin' Fifteen, the fifteenth book in Janet Evanovich's Stephanie Plum series.  The back of the book reads:
Recipe for disaster: Celebrity chef Stanley Chipotle comes to Trenton to participate in a barbecue cook-off and loses his head – literally.

Throw in some spice: Bail bonds office worker Lula is witness to the crime, and the only one she'll talk to is Trenton cop, Joe Morelli.

Pump up the heat: Chipotle's sponsor is offering a million-dollar reward to anyone who can provide information leading to the capture of the killers.

Stir the pot: Lula recruits bounty hunter Stephanie Plum to help her find the killers and collect the moolah.

Add a secret ingredient: Stephanie's Grandma Mazur. Enough said.

Bring to a boil: Can Stephanie hunt down two killers, a traitor, five skips, keep her grandmother out of the sauce, solve Ranger's problems and not jump his bones?

Warning: Habanero hot. So good you'll want seconds.
I have to admit, I was a little surprised to find Stephanie and Morelli on the outs when this novel begins, since they'd been getting pretty cozy in the last couple of books.  However, you won't find me complaining, because less Morelli meant more Ranger, and I'm a Ranger girl through and through.  I thought this was the best out of the last few Plum novels.  It wasn't quite as zany as some (after all, there are no monkeys in this one), but Stephanie still manages to destroy several vehicles, get shot at a few times, have her apartment firebombed, and give Joyce Barnhardt food poisoning. Sure, she doesn't learn much from her mistakes, but isn't that why we like her so much?
I can't help it, I still love this series.
Audiobook length: 6hrs 18min | Approximate word count: 77,490
2008: The Finishing School (Michele Martinez)
2007: Lean Mean Thirteen (Janet Evanovich)
2006: The Sky is Falling (Sidney Sheldon)
2005: Jacob's Ladder (Donald McCaig)
Used in these Challenges: 100+ Reading Challenge 2009; The 999 Challenge; What's in a Name Challenge;