2010: #70 – Fool (Christopher Moore)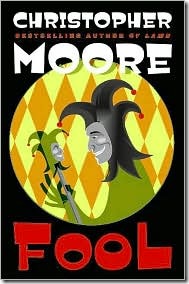 Book #70 was Fool by Christopher Moore.  The back of the book reads:
Verily speaks Christopher Moore, much-beloved scrivener and peerless literary jester, who hath writteneth much that is of grand wit and belly-busting mirth, including such laureled bestsellers of the Times of Olde Newe Yorke as Lamb, A Dirty Job, and You Suck: A Love Story. Now he takes on no less than the legendary Bard himself (with the utmost humility and respect) in a twisted and insanely funny tale of a moronic monarch and his deceitful daughters—a rousing story of plots, subplots, counterplots, betrayals, war, revenge, bared bosoms, unbridled lust . . . and a ghost (there's always a bloody ghost), as seen through the eyes of a man wearing a codpiece and bells on his head.
Fool is Christopher Moore's reworking of Shakespeare's tragedy King Lear, through the eyes of the King's fool, Pocket. Pocket is your usual Moore narrator — more than slightly absurd and utterly charming.  The story itself is chocked full of his trademark vulgarity and bawdy humor, with a bit of an antiquated twist. I thought it was a pretty decent listen, one of Moore's better stories, and some of his phrases have made it into our real-life conversations. If there's one thing you can always count on Moore for, it's a hearty laugh.
Other reviews:
Bookopolis: Book Review: Fool by Christopher Moore
Fool « reading comes from writing
Audiobook length: 8hrs 41min | Approximate word count: 96,800
2009: Night Play (Sherrilyn Kenyon)
2008: Wed to a Stranger? (Jule McBride)
2007: A Complicated Kindness (Miriam Toews)
2006: Killing Floor (Lee Child)
2005: Sudden Prey (John Sandford)
Used in these Challenges: 2010 100+ Reading Challenge; Audiobook Challenge;