2009: #78 – A Man for Amanda (Nora Roberts)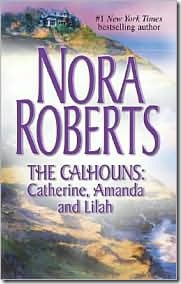 Book #78 was A Man for Amanda, the second Calhoun Women book from Nora Roberts.  The back of the book reads:
Efficient Amanda Calhoun finds easygoing Sloan O'Riley insufferable — and irresistible. As she finalizes all the arrangements for her sister C.C.'s storybook wedding to hotel magnate Trenton St. James, and plans for the day she assumes command of The Towers Retreat, her family is racing to solve the generations-old mystery surrounding a priceless hidden emerald necklace.
I think that Take-Charge Amanda is my favorite of the Calhoun sisters, and Sloan my favorite of the men they fall in love with. This is another solid romance, and a good continuance of the Bianca Calhoun mystery as a new danger is added to the mix. There must be something in the water in Bar Harbor… There's an awful lot of quick engagements going on!
Page count: 256 | Approximate word count: 64,000
2008: Considering SomeplacElse (B.L. Lindstrom)
2007: Shroud for a Nightingale (P.D. James)
2006: Voyager (Diana Gabaldon)
Used in these Challenges: 100+ Reading Challenge 2009; Read Your Own Books Challenge;