2021: #24 – Don't You Forget About Me (Mhairi McFarlane)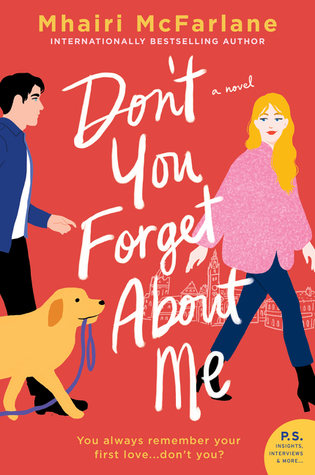 Don't You Forget About Me
by
Mhairi McFarlane
Published by
William Morrow Paperbacks
on September 10, 2019
Genres:
romance
,
contemporary romance
Pages:
432


You always remember your first love... don't you?

If there's anything worse than being fired from the lousiest restaurant in town, it's coming home early to find your boyfriend in bed with someone else. Reeling from the humiliation of a double dumping in one day, Georgina takes the next job that comes her way—bartender in a newly opened pub. There's only one problem: it's run by the guy she fell in love with years ago. And—make that two problems—he doesn't remember her. At all. But she has fabulous friends and her signature hot pink fur coat... what more could a girl really need?

Lucas McCarthy has not only grown into a broodingly handsome man, but he's also turned into an actual grown-up, with a thriving business and a dog along the way. Crossing paths with him again throws Georgina's rocky present into sharp relief—and brings a secret from her past bubbling to the surface. Only she knows what happened twelve years ago, and why she's allowed the memories to chase her ever since. But maybe it's not too late for the truth... or a second chance with the one that got away?
This was a cute romantic comedy focused on Georgina. Georgina is about to turn 30 and has nothing to show for it but a string of forgettable service jobs and a roommate who hates her. After getting fired from her job and then catching her boyfriend in the act of cheating on her, she reluctantly agrees to help a friend of her brother-in-law with the refreshments at a wake. Little did she know she would run into Lucas, the boy she loved and then lost her last year of school. Except…. it doesn't seem like he remembers her. At all.
This is the first Mhairi McFarlane book I've read and I like her voice. It was witty and cute and had a surprising amount of heart in it. I'm glad I have another of her books on my TBR for this year!
I read this for the following reading challenges:
Other reviews:
"At first glance, a fun rom-com of a book. But it quickly becomes an exploration of grief and trauma, with a heroine learning to love herself and create a life she's proud of. It's witty, it's thoughtful, and it's relevant." — She's Full of Lit
"If you're looking for a humorous, heartfelt work of women's fiction with a good smattering of romance, Don't You Forget About Me might just do the trick. It will certainly entertain." — Harlequin Junkie
"I absolutely cannot wait to start recommending and hounding people to read this book, it really is a happy little squeeze for my realistic romantic heart. I hope in the future we get a sequel or a novella that returns us to Georgina and Lucas, but if this is it, I'm so happy with the send off." — Because Books