2009: #8 – The Stupidest Angel (Christopher Moore)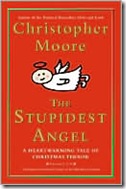 Book #8 was The Stupidest Angel by Christopher Moore.  The back of the book reads:
'Twas the night (okay, more like the week) before Christmas, and all through the tiny community of Pine Cove, California, people are busy buying, wrapping, packing, and generally getting into the holiday spirit.

But not everybody is feeling the joy. Little Joshua Barker is in desperate need of a holiday miracle. No, he's not on his deathbed; no, his dog hasn't run away from home. But Josh is sure that he saw Santa take a shovel to the head, and now the seven-year-old has only one prayer: Please, Santa, come back from the dead.

But hold on! There's an angel waiting in the wings. (Wings, get it?) It's none other than the Archangel Raziel come to Earth seeking a small child with a wish that needs granting. Unfortunately, our angel's not sporting the brightest halo in the bunch, and before you can say "Kris Kringle," he's botched his sacred mission and sent the residents of Pine Cove headlong into Christmas chaos, culminating in the most hilarious and horrifying holiday party the town has ever seen.

Move over, Charles Dickens — it's Christopher Moore time.
RUN! CHRISTMAS ZOMBIES!
I didn't find this to be as good as A Dirty Job was, but there is plenty of Moore's trademark absurdity and satire here. Some of the characters are a bit boring, including the Archangel Raziel, but there are a few that save the day — in more ways than one. I quite enjoyed Molly, aka Kendra, the Warrior Babe of the Outland, who is more than a little not right. It's a bit slow getting there, but the holiday party and the ensuing chaos is worth the wait.
Audiobook Length: 6hrs 16m | Word count: 56,865
2008: Loyalty in Death (J.D. Robb)
2007: Tokyo Woes (Bruce Jay Friedman)
2006: The Surgeon (Tess Gerritsen)
2005: One for the Money (Janet Evanovich)
Used in these Challenges: The Countdown Challenge; 100+ Reading Challenge 2009; 2nds Challenge; 2009 Audiobook Challenge; The 999 Challenge; A-Z 2009 Challenge;