2009: #84 – The Girl With the White Flag (Tomiko Higa)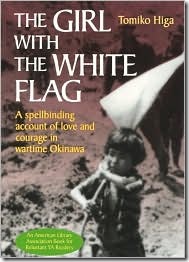 Book #84 was The Girl With the White Flag by Tomiko Higa.  The back of the book reads:
New York Newsday called this memoir of a warhood childhood in Japan "one of the saddest and yet most uplifting books about childhood you will ever encounter."

Separated from her family in the confusion and horror of World War II, seven-year-old Tomiko Higa struggles to survive on the battlefield of Okinawa, Japan. There, as some of the fiercest fighting of the war rages around her, she must live alone, with nothing to fall back on but her own wits and daring. Fleeing from encroaching enemy forces, searching desperately for her lost sisters, taking scraps of food from the knapsacks of dead soldiers, risking death at every turn, Tomiko somehow finds the strength and courage to survive.

Many years later she decided to tell this story. Originally intended for juvenile readers, it is sure to move adults as well, because it is such a vivid portrait of the unintended civilian casualties of any war.
Tomiko's story is sad and heartwarming at the same time.  She shows us a side of World War II that we rarely hear about… the plight of the Japanese people.  What's most amazing is how she surived, mostly on her own, at only 7 years old. We often forget about how war affects the youngest among us. This is a quick read, and well worth the time.
Page count: 130 | Approximate word count: 32,500
2008: From the Mixed-Up Files of Mrs. Basil E. Frankweiler (E.L. Konigsburg)
2007: In This Mountain (Jan Karon)
2006: N is for Noose (Sue Grafton)
Used in these Challenges: 100+ Reading Challenge 2009; Read Your Own Books Challenge;