2009: #87 – Best Intentions (Emily Listfield)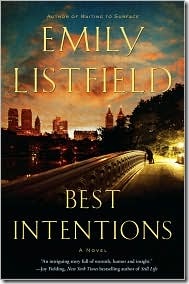 Book #87 was Best Intentions by Emily Listfield.  The back of the book reads:
From the acclaimed author of Waiting to Surface comes the story of four college friends whose reunion reawakens old desires and grudges — with fatal results.

After tossing and turning all night, thirty-nine-year-old Lisa Barkley wakes up well before her alarm sounds. With two daughters about to start another year at their elite Upper East Side private school and her own career hitting a wall, the effort of trying to stay afloat in that privileged world of six-story town houses and European jaunts has become increasingly difficult, especially as Manhattan descends into an economic freefall.

As Lisa looks over at her sleeping husband, Sam, she can't help but feel that their fifteen-year marriage is in a funk that she isn't able to place. She tries to shake it off and tells herself that the strain must be due to their mounting financial pressures. But later that morning, as her family eats breakfast in the next room, Lisa finds herself checking Sam's voicemail and hears a whispered phone call from a woman he is to meet that night. Is he having an affair?

When Lisa shares her suspicions with her best friend, Deirdre, at their weekly breakfast, Deirdre claims it can't be true. But how can Lisa fully trust her opinion when Deirdre is still single and mired in an obsessive affair with a glamorous photographer even as it hovers on the edge of danger?

When Deirdre's former college flame, Jack, comes to town and the two couples meet to celebrate his fortieth birthday, the stage is set for an explosive series of discoveries with devastating consequences.Filled with suspense and provocative questions about the relationships we value most, Best Intentions is a tightly woven drama of love, friendship and betrayal.
This is the story of a working mom of two who is suddenly feeling very insecure in her life.  Her husband appears distant and is lying to her, her employer has been purchased by another, larger firm, and she doesn't even fit in with the other moms at her daughters' school. Her paranoia is taking over her life, fed by an old friend coming back to town and a new client who begins flirting with her. Unfortunately, some of her actions seem to have devastating consequences.
I thought this was a pretty good story, but a little disjointed. It's definitely divided into two different parts, with different pacing. I felt like things were wrapped up a little too quickly at the end — I would have liked to have seen more exploration of David Forrester and his motives, since he plays such a vital role in the turning point. So I'd say this was a decent read, but it could have been a little bit better.
Page count: 352 | Approximate word count: 105,600
2008: The Mysterious Affair at Styles (Agatha Christie)
2007: Carolina Moon (Nora Roberts)
2006: 44 Cranberry Point (Debbie Macomber)
Used in these Challenges: 100+ Reading Challenge 2009; 2009 ARC Reading Challenge;