2009: #90 – Jar City (Arnaldur Indridason)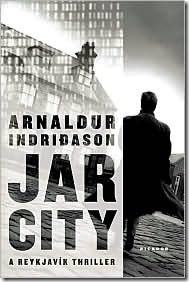 Book #90 was Jar City, the first in Arnaldur Indriðason's Inspector Erlendur series.  The back of the book reads:
A man is found murdered in his Reykjavík flat, and the police have no obvious leads. The man lived alone and had no family, and of his only two friends, one is serving time for an array of petty crimes and psychotic violence, and the other hasn't been heard of for twenty-five years.

Erlendur and his colleague Sigurdur Óli head the investigation team. They find a computer filled with downloaded pornography, and in a desk, the photograph of a young girl's grave and the cryptic note left behind by the killer. Delving into the dead man's past, they discover that forty years ago he was accused, though not convicted, of rape. Now Erlendur has to follow his instincts when his colleagues are losing faith in the investigation. Foraging into the past, Erlendur discovers that the city of Reykjavík has one or two secrets of its own, secrets it would rather keep.

Jar City is the first in a new and exciting series of crime novels from the land of the saga, and was a runaway success in Iceland.
I've really come to enjoy books by foreign authors set in foreign landscapes because I feel like I learn something every single time I read one.  In this case, I had no idea that in Iceland, they don't use surnames like we do. See, that's something you just don't learn on TV.  Nor did I know that Iceland has a genetic database of its entire population, which is something that would certainly never fly in the U.S. Anyhoo, this wasn't your run-of-the-mill whodunnit.  There is a murder that Erlendur and his partner Sigurdur Óli are trying to solve, but the story ends up being much more about the victim and what he did in his past. This is one case where the victim perhaps got what he deserved. Erlendur is somewhat of a drab character on his own, but I enjoy his interactions with others, especially with his wayward daughter, Eva Lind.  I think there's a lot of room for growth in the series, and I look forward to reading the next two.
Page count: 275 | Word count: 71,871
2008: Chocolate Chip Cookie Murder (Joanne Fluke)
2007: Sacred and Profane (Faye Kellerman)
2006: A Certain Justice (John Lescroart)
Used in these Challenges: 100+ Reading Challenge 2009; 2009 ARC Reading Challenge; A-Z 2009 Challenge;