2006: #75 – Cruel and Unusual (Patricia Cornwell)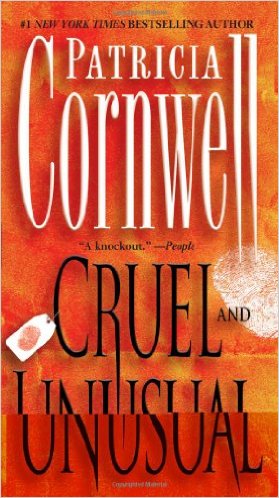 Cruel and Unusual
Kay Scarpetta #04
Detective Fiction
Pocket Books
November 1, 2005
416

"Killing me won't kill the beast" are the last words of rapist-murderer Ronnie Joe Waddell, written four days before his execution. But they can't explain how Dr. Kay Scarpetta finds Waddell's fingerprints on another crime scene -- after she'd performed his autopsy. If this is some sort of game, Scarpetta seems to be the target. And if the next victim is someone she knows, the punishment will be cruel and unusual...
Book #75 was Cruel & Unusual, book #4 in Patricia Cornwell's Kay Scarpetta series.
Not a bad installment. I don't enjoy these early ones as much as the later ones. The wrap-ups often seem clunky and convenient. Lucy's character in this one is somewhat harsh, but there's shadows of what's to come with her.
Book count: 75
Pages in book: 416
Page count: 31,017
Words in book: 100,467
Word count: 9,079,381
1,000,000 words surpassed — 2/2/06
2,000,000 words surpassed — 2/14/06
10,000 pages surpassed — 3/10/06
3,000,000 words surpassed — 3/16/06
4,000,000 words surpassed — 4/3/06
5,000,000 words surpassed — 5/30/06
50 books surpassed — 6/12/06
20,000 pages surpassed — 6/29/06
6,000,000 words surpassed — 6/29/06
7,000,000 words surpassed — 7/21/06
8,000,000 words surpassed — 8/18/06
30,000 pages surpassed — 9/3/06
9,000,000 words surpassed — 9/6/06