2010: #13 – No One You Know (Michelle Richmond)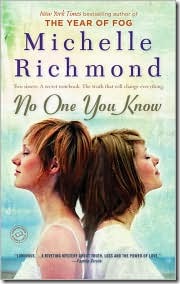 Book #13 was No One You Know by Michelle Richmond. The back of the book reads:
All her life Ellie Enderlin had been known as Lila's sister—until the day Lila, a top math student at Stanford, was murdered, and the shape of their family changed forever. Twenty years later, Ellie is a professional coffee buyer who has never put down roots. When, in a chance meeting, she comes into possession of the notebook that Lila carried everywhere, Ellie returns home to finally discover the truth about her sister's death—a search that will lead her to Lila's secret lover, to the motives and fate of a man who profited from their family's grief, and ultimately to the deepest secrets even sisters keep from each other. From the bestselling author of The Year of Fog ("Highly recommended [for fans of] authors like Jodi Picoult and Jacquelyn Mitchard."—Library Journal [starred review]), this is a riveting family drama about loss, love, and the way hope redefines our lives—a novel at once heartbreaking, provocative, and impossible to put down.
I enjoyed this, though I do confess to skimming some of the parts about math.  I may have been a math major once upon a time, but I don't really enjoy reading about it.  Other than that, I thought Ellie and Lila's story was quite interesting.  Ellie has 20 years of guilt that she has to deal with, and that is almost more important than figuring out who actually killed her sister. I especially enjoyed the use of setting in the story — whether Ellie was in San Francisco or Nicaragua, I felt like I was there with her.  All of Ellie's relationships, whether they be close (like with her parents) or casual, are odd and strained, leading the reader to believe that Ellie and Lila were more alike than either of them thought. One unexpected result of reading this is that I'll never look at a true crime novel quite the same way again.  How much of it is truth, and how much is conjecture?  How much of the story is written just to push the author's agenda?  What was the family's reaction to the book?  It gives you something to think about.
Other reviews:
S. Krishna's Books: No One You Know – Michelle Richmond
Musings of a Bookish Kitty: Review: No One You Know by Michelle Richmond
Peeking Between the Pages: Book Review: No One You Know by Michelle Richmond
Book Review: No One You Know « Stone SouP
Presenting Lenore: Book Review: No One You Know by Michelle Richmond
Page count: 352 | Approximate word count: 105,600
2009: Upbound (Peter Hassebroek)
2008: Midnight Rain (Holly Lisle)
2007: Weep Not For The Vampire (William Veselik)
2006: Bloody Bones (Laurell K. Hamilton)
2005: Mind Prey (John Sandford)
Used in these Challenges: Countdown Challenge 2010; ARC Reading Challenge 2010; 2010 100+ Reading Challenge; New Author Challenge 2010; Pages Read Challenge Season 2;