2009: #99 – The Girl Who Played With Fire (Stieg Larsson)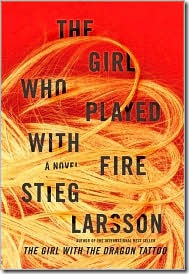 Book #99 was The Girl Who Played With Fire, the second book in Stieg Larsson's Millennium trilogy.  The back of the book reads:
Mikael Blomkvist, crusading journalist and publisher of the magazine Millennium, has decided to run a story that will expose an extensive sex trafficking operation between Eastern Europe and Sweden, implicating well-known and highly placed members of Swedish society, business, and government.

But he has no idea just how explosive the story will be until, on the eve of publication, the two investigating reporters are murdered. And even more shocking for Blomkvist: the fingerprints found on the murder weapon belong to Lisbeth Salander—the troubled, wise-beyond-her-years genius hacker who came to his aid in The Girl with the Dragon Tattoo, and who now becomes the focus and fierce heart of The Girl Who Played with Fire.

As Blomkvist, alone in his belief in Salander's innocence, plunges into an investigation of the slayings, Salander herself is drawn into a murderous hunt in which she is the prey, and which compels her to revisit her dark past in an effort to settle with it once and for all.
As much as I enjoyed The Girl With the Dragon Tattoo, I liked this even more.  When the story begins, Mikael Blomkvist has regained his status as one of Sweden's foremost journalists, thanks to the continued success of Millennium and the popularity of his book about the Wennerstrom affair. But he hasn't seen Lisbeth Salander for nearly a year, despite stopping by her apartment on a regular basis hoping to catch her. Salander, who has also benefited from the Wennerstrom/Vanger affair, has decided to go on a bit of a vacation across Europe and the Caribbean, keeping tabs on things at home (including her ne'er do well "guardian" and Blomkvist) in her own special way. Both find themselves involved in an investigation of human trafficking, in quite different ways.
It's when Salander is accused of a series of brutal crimes that you realize what a genius character Larsson has created.  Because despite how much you like Salander and want to root for her, you completely believe that she *could* have done it — or at least I did.  And it's a very long time before you discover the truth, with each scene without Salander in it making you wonder even more.
I can't recommend this trilogy enough.  It has suspense, mystery, relationships, and a little bit of social commentary. However, if you can't handle cliffhangers, I would wait until the third book, The Girl Who Kicked the Hornet's Nest, is released (June 2010!). As soon as you finish this one, you'll be ready for it.
MYSTERIES in PARADISE: Review: THE GIRL WHO PLAYED WITH FIRE
S. Krishna's Books: The Girl Who Played With Fire – Stieg Larsson [TSS]
Sunday Salon – Review of The Girl Who Played With Fire by Stieg Larsson << Rhapsodyinbook's Weblog
Book Nook Club: The Girl who Played with Fire by Stieg Larsson Review
Books for Breakfast – Book Reviews With a Twist: 48. THE GIRL WHO PLAYED WITH FIRE – Stieg Larsson
Page count: 512 | Approximate word count: 153,600
2008: Like Glass (Matthew Cory)
2007: Night Embrace (Sherrilyn Kenyon)
2006: The English Assassin (Daniel Silva)
Used in these Challenges: 100+ Reading Challenge 2009; 2nds Challenge; The 999 Challenge; Countdown Challenge 2010;