2009: #22 – Dead to the World (Charlaine Harris)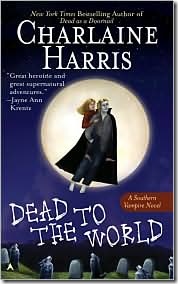 Book #22 was Dead to the World, the fourth book in Charlaine Harris's Sookie Stackhouse series.  The back of the book reads:
When cocktail waitress Sookie Stackhouse sees a naked man on the side of the road, she doesn't just drive on by. Turns out the poor thing hasn't a clue who he is, but Sookie does. It's Eric the vampire–but now he's a kinder, gentler Eric. And a scared Eric, because whoever took his memory now wants his life.
I think I enjoyed this book a little more than the last couple because I've watched the True Blood HBO series and now have a voice and picture in my head for different characters.  Also, there's very little Bill in this book, which suits me fine because in this series, I'm more of a were/shifter fan — Alcide or Sam, anyone? Instead, we get a lot of Eric, though in a form we've never seen before.  I enjoyed Sookie testing out her independence a bit, even if she's not entirely happy with some of the choices she makes. I liked how there are some events that happen here that will definitely change Sookie's future — I can't wait to see where the story's going!
Page count: 320 | Word count: 91,349
2008: Living Dead in Dallas (Charlaine Harris)
2007: A Death in Belmont (Sebastian Junger)
2006: A Long Way Down (Nick Hornby)
2005: The Bastard (John Jakes)
Used in these Challenges: The Countdown Challenge; 100+ Reading Challenge 2009; 2009 eBook Challenge; The 999 Challenge; A-Z 2009 Challenge;