2009: Challenges – Clear off Your Shelves Challenge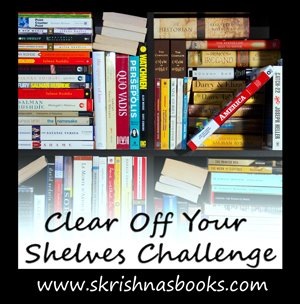 Hey, it's a brand new challenge brought to us by S. Krishna!
This challenge is all about reading your own books.  In particular, anything that wasn't received as a review copy! Here are the details:
When?
This challenge will run from October 1, 2009 – November 30, 2009. This means that it does coincide with Dewey's 24 Hour Read-a-thon, and any books that qualify for this challenge that you read during the Read-a-thon are eligible!
Where?
How?
This challenge will work a little differently than other challenges. Instead of picking a set number of books to read during this time period, you will pick a percentage. This means that a certain percentage of the books you read during these two months will have to qualify for this challenge. For example, let's say you pick 40% and you end up reading 10 books in October and November. 4 of those books would have to qualify for this challenge in order for you to complete it. I am setting a minimum percentage of 20%.
As a result, there is no need to make a list of books prior to starting the challenge, though please feel free to do so if you want to! Your wrap-up post should have a list of the books you read for the challenge, though, so please do keep track of what you read!
Here is the link to the sign up post, and please spread the word!
My goal for this challenge is going to be 30%, and I'll list the books I read below!
October
Books read: 18
Books that qualify: 11
Finished %: 61%
(much better than I thought!)
November
Books read: 8
Books that qualify: 6
Finished %: 75%