2009: #103 – Silence of the Grave (Arnaldur Indridason)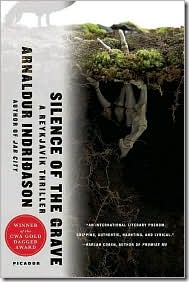 Book #103 was Silence of the Grave, the second book in Arnaldur Indridason's Inspector Erlendur series.  The back of the book reads:
Inspector Erlendur returns in this gripping Icelandic thriller When a skeleton is discovered half-buried in a construction site outside of Reykjavík, Inspector Erlendur finds himself knee-deep in both a crime scene and an archeological dig. Bone by bone, the body is unearthed, and the brutalizing history of a family who lived near the building site comes to light along with it. Was the skeleton a man or a woman, a victim or a killer, and is this a simple case of murder or a long-concealed act of justice? As Erlendur tries to crack this cold case, he must also save his drug-addicted daughter from self destruction and somehow glue his hopelessly fractured family back together.
Like the chilly Nordic mysteries of Henning Mankell and Karen Fossum, Arnaldur Indridason delivers a stark police procedural full of humanity and pathos, a classic noir from a very cold place.
I felt like this was a much smoother read than the first book in this series, Jar City.  I think that here, Indridason has smoothed out his story-telling and figured out more about who Erlendur really is.  This book takes place a few months after the end of the first, and not only is Erlendur investigating a set of bones found buried in the outskirts of Reykjavik, but his pregnant, drug-addicted daughter is also missing. Erlendur's familiar compatriots from the first novel are also there to aid in his search.
The story moves effortlessly back and forth from the present day to World War II era Iceland. Even with the extra clues you get that Erlendur doesn't, you're never quite sure (until you're told) who the body next to the red currant bushes is.  And along the way, you learn a little more about Erlendur and what makes him tick.  I find him and his very dysfunctional family rather compelling, and I'm looking forward to Voices, the third book in the series.
This book was a review copy.
Other reviews:
an adventure in reading: BOOK: Silence of the Grave by Arnaldur Indridason
NextRead » Review: Silence of the Grave by Arnaldur Indridason
Reading Matters: 'Silence of the Grave' by Arnaldur Indriðason
book reports :: Silence of the Grave ::
Musings of a Bookish Kitty: Silence of the Grave by Arnaldur Indridason
Page count: 304 | Approximate word count: 79,450
2008: The Quickie (James Patterson)
2007: Callander Square (Anne Perry)
2006: Velocity (Dean Koontz)
Used in these Challenges: 100+ Reading Challenge 2009; 2nds Challenge; Countdown Challenge 2010;