2008: A Giveaway! – Matrimony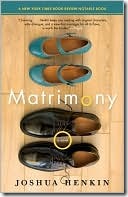 It's time for another giveaway!
Joshua Henkin, the author of Matrimony, has offered to give away a signed copy of his new paperback!  Matrimony was named a 2007 NEW YORK TIMES NOTABLE BOOK, a Book Sense Highlight Pick of the Year, and a Borders Original Voices Selection. The back of the book reads:
It's the fall of 1986, and Julian Wainwright, an aspiring writer, arrives at Graymont College in New England. Here he meets Carter Heinz, with whom he develops a strong but ambivalent friendship, and beautiful Mia Mendelsohn, with whom he falls in love. Spurred on by a family tragedy, Julian and Mia's love affair will carry them to graduation and beyond, taking them through several college towns, over the next fifteen years. Starting at the height of the Reagan era and ending in the new millennium, Matrimony is a stunning novel of love and friendship, money and ambition, desire and tensions of faith. It is a richly detailed portrait of what it means to share a life with someone-to do it when you're young, and to try to do it afresh on the brink of middle age.
I enjoyed reading Matrimony, and you can read my review here. You can find more information about Joshua Henkin at his web site, http://www.joshuahenkin.com. And, in this video, Joshua Henkin discusses his book as part of the Authors@Google series. This event took place October 11, 2007 at Google's office in Ann Arbor, MI.
There are 3 ways to enter!
Leave me a comment.  Please make sure you leave a valid email address.
Post about my giveaway on your blog or MySpace or Facebook or wherever! Just leave me a link to your post.
Subscribe to my feed! Just leave me a comment that you did!
Each person is allowed a maximum of 3 entries. Entries will be accepted until midnight on Sunday, October 12 and I will draw a winner on Monday, October 13.
Good luck!