2009: Challenges – Countdown Challenge 2010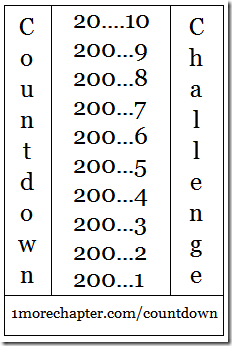 I had a lot of fun with the Countdown Challenge 2009, so I'm in it for another year.  Here's the skinny:
The goal of this challenge is to read the number of books first published in a given year that corresponds to the last digit of each year in the 2000s — 10 books from 2010, 9 books from 2009, 8 books from 2008, etc. The total number of books required, therefore, is 55.
This challenge lasts from 9/9/09 through 10/10/10.
Crossovers with other challenges are allowed and your lists may change at any time.
Sign up using Mr. Linky.
Have fun reading!
Sign up at the challenge blog!
Here's my list – last update 9/12/10
2010
2009
Catching Fire – Suzanne Collins
The Girl Who Played With Fire – Stieg Larsson
Cleopatra's Daughter – Michelle Moran
The Spire – Richard North Patterson
The Fury – Jason Pinter
How to Say Goodbye in Robot – Natalie Standiford
The Maze Runner – James Dashner
True Blue – David Baldacci
Forbidden Falls – Robyn Carr 
2008
2007
Virgin River – Robyn Carr
Last Rituals – Yrsa Sigurdardottir
Tongue in Chic – Christina Dodd 
Kitty Takes a Holiday – Carrie Vaughn 
Black Seconds – Karin Fossum 
Shelter Mountain – Robyn Carr 
All Together Dead – Charlaine Harris 
2006
Glass Houses – Rachel Caine
Kitty Goes to Washington – Carrie Vaughn
The Book Thief – Markus Zusak 
The Boleyn Inheritance – Philippa Gregory
Definitely Dead – Charlaine Harris 
Voices – Arnaldur Indridason 
2005
2004
2003
Stiff – Mary Roach
Death Masks – Jim Butcher
 
2002
Lamb – Christopher Moore 
Chasing the Dime – Michael Connelly 
2001
Strawberry Shortcake Murder – Joanne Fluke