2009: #102 – Wish You Were Here (Rita Mae Brown)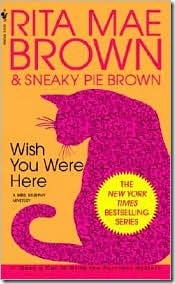 Book #102 was Wish You Were Here, the first book in Rita Mae Brown's Mrs. Murphy series.  The back of the book reads:
Curiosity just might be the death of Mrs. Murphy–and her human companion, Mary Minor "Harry" Haristeen. Small towns are like families: Everyone lives very close together. . .and everyone keeps secrets. Crozet, Virginia, is a typical small town-until its secrets explode into murder. Crozet's thirty-something post-mistress, Mary Minor "Harry" Haristeen, has a tiger cat (Mrs. Murphy) and a Welsh Corgi (Tucker), a pending divorce, and a bad habit of reading postcards not addressed to her. When Crozet's citizens start turning up murdered, Harry remembers that each received a card with a tombstone on the front and the message "Wish you were here" on the back. Intent on protecting their human friend, Mrs. Murphy and Tucker begin to scent out clues. Meanwhile, Harry is conducting her own investigation, unaware her pets are one step ahead of her. If only Mrs. Murphy could alert her somehow, Harry could uncover the culprit before the murder occurs–and before Harry finds herself on the killer's mailing list.
I've long meant to read Rita Mae Brown's Mrs. Murphy series, for two reasons — 1. one of the main characters is a cat, and 2. they're set outside of Charlottesville, VA (not so far from where I live). Despite a few faults, I enjoyed this.  Though I like the conversations the animals have amongst themselves, I think I could have done without the philosophical discussions of how humans are not as good as animals because they kill each other for no good reason.  I just don't buy animals as philosophical creatures, no matter how intelligent they are. The depiction of small-town life is, I think, fairly accurate, and the mystery was sufficiently mysterious enough.  I was unable to guess who the killer was, and I had no clue why until the big reveal.  I think I'll continue on with this series.
The one big problem with this book is that every time I read the title, I get Pink Floyd stuck in my head.
Other reviews:
Joy's Blog: Review: Wish You Were Here
Page count: 320 | Approximate word count: 80,000
2008: Swallowing Darkness (Laurell K. Hamilton)
2007: 16 Lighthouse Road (Debbie Macomber)
2006: A Death in Vienna (Daniel Silva)
Used in these Challenges: 100+ Reading Challenge 2009;