2009: #101 – Cleopatra's Daughter (Michelle Moran)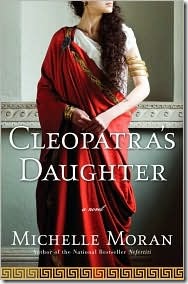 Book #101 was Cleopatra's Daughter by Michelle Moran.  The back of the book reads:
The marriage of Marc Antony and Cleopatra is one of the greatest love stories of all time, a tale of unbridled passion with earth-shaking political consequences. Feared and hunted by the powers in Rome, the lovers choose to die by their own hands as the triumphant armies of Antony's revengeful rival, Octavian, sweep into Egypt. Their three orphaned children are taken in chains to Rome; only two– the ten-year-old twins Selene and Alexander–survive the journey. Delivered to the household of Octavian's sister, the siblings cling to each other and to the hope that they will return one day to their rightful place on the throne of Egypt. As they come of age, they are buffeted by the personal ambitions of Octavian's family and court, by the ever-present threat of slave rebellion, and by the longings and desires deep within their own hearts.

The fateful tale of Selene and Alexander is brought brilliantly to life in Cleopatra's Daughter. Recounted in Selene's youthful and engaging voice, it introduces a compelling cast of historical characters: Octavia, the emperor Octavian's kind and compassionate sister, abandoned by Marc Antony for Cleopatra; Livia, Octavian's bitter and jealous wife; Marcellus, Octavian's handsome, flirtatious nephew and heir apparent; Tiberius, Livia's sardonic son and Marcellus's great rival for power; and Juba, Octavian's watchful aide, whose honored position at court has far-reaching effects on the lives of the young Egyptian royals.

Selene's narrative is animated by the concerns of a young girl in any time and place–the possibility of finding love, the pull of friendship and family, and the pursuit of her unique interests and talents. While coping with the loss of both her family and her ancestral kingdom, Selene must find a path around the dangers of a foreign land. Her accounts of life in Rome are filled with historical details that vividly capture both the glories and horrors of the times. She dines with the empire's most illustrious poets and politicians, witnesses the creation of the Pantheon, and navigates the colorful, crowded marketplaces of the city where Roman-style justice is meted out with merciless authority.

Based on meticulous research, Cleopatra's Daughter is a fascinating portrait of imperial Rome and of the people and events of this glorious and most tumultuous period in human history. Emerging from the shadows of the past, Selene, a young woman of irresistible charm and preternatural intelligence, will capture your heart.
Loved this.  While Moran sticks to her Egyptian roots with her main character, Cleopatra Selene, really this book is about post-Julius Caesar Rome. Selene, her twin brother Alexander, and younger brother Ptolemy are taken to Rome by Octavian (future Emperor Augustus) after the death of their parents, Cleopatra and Mark Antony. They are his trophies, and will live with his sister, Octavia. Soon, Selene finds herself wrapped up not only in the politics of being part of the Caesar's extended family, but also in the mystery of the Red Eagle, a mystery man (or woman) who fights for the freedom of Rome's slaves.
Not much is known about Selene's early life, but I can completely buy that a strong, independent woman such as Cleopatra would have a strong, independent daughter.  She longs for a return to Egypt, but still finds herself wrapped up in the normalcy of a pre-teen/teenager's life — school, shopping, gossip, and crushes. Through her experiences, we learn what life for a girl in Rome's aristocracy may have been like. It's a little bit difficult to keep track of who everyone is and how they're related to each other (especially the children, who all tend to be either step-siblings or half-siblings with each other), but there is a guide in the front that helps.
Also, this book is being marketed both as a YA novel and as an "adult" novel (whatever that means).  It's definitely more on the YA side, but enjoyable for adults as well.
This book was a review copy.
Other reviews:
Cleopatra's Daughter – Book Review – caribousmom
At Home With Books: Cleopatra's Daughter – Review
Creative Madness that Makes Me Myself: Review: Cleopatra's Daughter
Becky's Book Reviews: Cleopatra's Daughter
Medieval Bookworm » Review: Cleopatra's Daughter, Michelle Moran
Page count: 448 | Approximate word count: 122,000
2008: Deja Dead (Kathy Reichs)
2007: Night Pleasures (Sherrilyn Kenyon)
2006: Vital Signs (Robin Cook)
Used in these Challenges: 100+ Reading Challenge 2009; 2nds Challenge; 2009 ARC Reading Challenge; The 999 Challenge; What's in a Name Challenge;