2009: Challenges – E-book Reading Challenge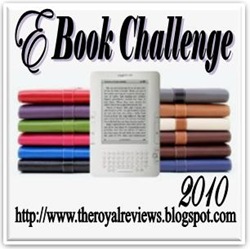 The E-book Reading Challenge, was formerly hosted by J.Kaye and now hosted by Royal Reviews. Here are the guidelines:
Anyone can join. You don't need a blog to participate. –Non-Bloggers: Include your information in the comment section.
There are four levels:

Curious – Read 3 E-Books.
Fascinated – Read 6 E-Books.
Addicted – Read 12 E-Books.
Obsessed – Read 20 E-Books.

Any genre counts.
You can list your books in advance or just put them in a wrap up post. If you list them, feel free to change them as the mood takes you.
Challenge begins January 1st thru December, 2010. Only books started on January 1st count towards this challenge.
When you sign up under Mr. Linky, put the direct link to the post about the E-book Reading Challenge. Include the URL so that other participants can find join in and read your reviews and post.
Sign up is at Royal Reviews! My list will be below – I'm choosing the Obsessed option:
last updated 11/26/10