2009: #132 – Born in Fire (Nora Roberts)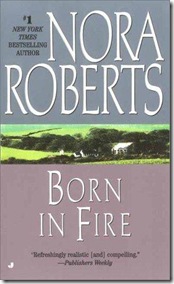 Book #132 was Born in Fire, the first book in Nora Roberts' Concannon Sisters trilogy. The back of the book reads:
Attempting to hide from her past, reclusive glassmaker Maggie Concannon devotes her life to her art, until gallery owner Rogan Sweeney recognizes her talent and offers to help her build a lucrative career.
This started out a little slow for me… (slight spoiler).. Maggie's father dies right at the beginning, and the foreshadowing is as noticeable as a neon sign. That turned me off a bit.  But once you get into it, you get what you're looking for in a Nora Roberts tale: strong characters in a beautiful setting. Rogan comes off as the more likeable character, but you do warm up to Maggie over time, especially when you realize what her childhood must have been like.  The details about the glass blowing are interesting at first, but do get a little repetitive. Regardless, I'm looking forward to continuing the trilogy with Briana's story.
Other reviews:
My First Nora (Review – Born in Fire) «
ReadingAdventures: Born in Fire by Nora Roberts
Page count: 416 | Word count: 97,988
2007: The Body Box (Lynn Abercrombie)
Used in these Challenges: none