2009: Challenges – Thriller & Suspense Reading Challenge 2010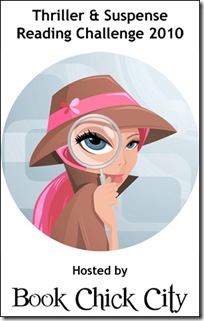 The Thriller & Suspense Reading Challenge 2010 is hosted by Book Chick City. Here are the guidelines:
Timeline: 01 Jan 2010 – 31 Dec 2010

Rules: To read TWELVE (12) thrillers in 2010

Details: 

You don't have to select your books ahead of time, you can just add them as you go. Also if you do list them upfront then you can change them, nothing is set in stone! The books you choose can crossover into other challenges you have on the go.
If you decide to participate in this challenge please use the links I have set up below with the buttons to post on your sidebar, this way others can find their way back to this post and join in the fun.
If you decide to join this challenge be sure to create a post telling others, please make sure you add a link back to this post so others can join in.
You can join anytime between now and the later part of next year.
There will be a place for you to link your reviews, but this is optional.
Sign up and more details are at Book Chick City! My list will be below: (last updated 10/25/10)
The First Rule – Robert Crais   
Heat Wave – Richard Castle 
Ivory Tower Cop – George Kirkham & Leonard Territo 
London Bridges – James Patterson 
Chasing the Dime – Michael Connelly   
Worst Case – James Patterson   
Undertow – Sydney Bauer 
Broken – Karin Slaughter 
The Black Ice – Michael Connelly 
Heat Lightning – John Sandford   
The Clinic – Jonathan Kellerman 
Saving Max – Antoinette van Heugten