2009: #130 – The Outlaw Demon Wails (Kim Harrison)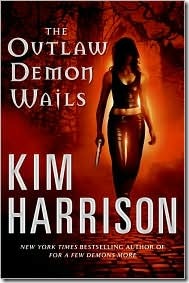 Book #130 was The Outlaw Demon Wails, the 6th book in Kim Harrison's Rachel Morgan series.  The back of the book reads:
When you dance with demons, you lay your soul on the line . . .

In the Hollows, where the natural and the supernatural co-exist—not always peacefully—desperate times often call for unorthodox measures. But bounty hunter-witch Rachel Morgan did the absolutely unthinkable to save the lives of her friends: she willingly trafficked in forbidden demon magic. And now her sins have come home to haunt her.

As Rachel hunts for the truth behind a terrifying murder, the discovery of a shocking family secret is about to throw her entire life into question. And the long-lost ancient knowledge she seeks resides in the demonic ever-after.

But there are some lines that should never be crossed—like the one Rachel Morgan's stepping over . . . again!
This is one of the best series in paranormal fiction. It's not full of camp or clichés or focused on a forbidden love; it's just a young witch growing up and finding her way in the world despite some formidable obstacles. There's depth and complexity here. Rachel doesn't always make the best decisions, but she often makes them for what she feels are the right reasons. She cares deeply about her family and friends, often to her own detriment. In this book, I finally got a real sense of why she dislikes Trent Kalamack so much — before he seemed more of a nuisance, but here you really saw how cold and one-track-minded he could be. Her family secret was interesting and unexpected, and made a lot of sense.  I think that's a situation that is going to work out really well in the long run.  Rachel's maturing, and I love being along for the ride.
Other reviews:
Darque Reviews: The Outlaw Demon Wails by Kim Harrison
A Gaggle of Book Reviews | The Outlaw Demon Wails
Review: The Outlaw Demon Wails «
The Outlaw Demon Wails by Kim Harrison
Page count: 544 | Approximate word count: 136,000
2007: Idyll Banter (Chris Bohjalian)
Used in these Challenges: Countdown Challenge 2010;