2009: #57 – Reunion (Therese Fowler)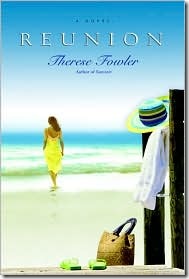 Book #57 was Reunion by Therese Fowler.  The back of the book reads:
Following the acclaimed success of Souvenir, Therese Fowler's captivating new novel will resonate with every woman who has wondered what if—as a heartfelt drama of buried secrets and daring passion unfolds.

Celebrity talk show host Blue Reynolds is the queen of daytime television—she is smart, funny, and as down-to-earth as her adoring fans. In the eyes of the world, she has it all. But no one knows about the secret she has harbored for the last twenty years—a secret that could destroy her image, her reputation, and her career. Twenty years ago, she gave birth to a son and put him up for adoption through illegal channels. And every day since, she's been filled with regret. Now Blue has hired a private investigator to find her son, knowing full well the consequences.

A week in Key West to do her show on location brings Blue a much-needed change of pace—and an unexpected reunion with an old flame, Mitch Forrester. Helping him launch a television series may help her recapture the kind of genuine romance and affection long missing from her life. But it also means having to deal with Mitch's disapproving son, Julian, who is only nine years younger than Blue. Emotionally battered from his years as a war photographer in the world's most dangerous hotspots, Julian struggles to get close to his father while making his disdain for Blue crystal clear—which makes his desire for her all the more shocking.

As serendipity and scandal collide, Therese Fowler's passionate, illuminating novel takes a dramatic turn deep into our own hearts, as the healing power of love—family love, romantic love, and self-love—transforms pain and regrets into promises and second chances.
Blue is best thought of here as "the white Oprah".  She's enormously rich, enormously famous, and hiding an enormous secret that not even her own mother knows – she gave up a child for adoption when she was young and irresponsible and suffering from a broken heart. Reunion is the story of what happens when your past comes back to haunt you, and in this case the haunting is both good and bad.  Blue is able to reconnect with a lost love, discover a new one, and at the end must make one of the biggest decisions of her life.  I'm not sure about the suddenness of one of her decisions (near the end), but it sure makes for an interesting twist in the story.  I particularly enjoyed the Key West setting.  Fowler does an excellent job of capturing the laid-back relaxing feel of the whole island and culture. Overall, I thought this was a great read, especially for summer – not too light, and not too heavy.
THE REUNION VIRTUAL BLOG TOUR '09 is going on through the month of May. You can visit Therese's blog stops at www.virtualbooktours.wordpress.com in May to find out more about this talented author!
Page count: 336 | Approximate word count: 84,000
2008: Fearless Fourteen (Janet Evanovich)
2007: Windmills of the Gods (Sidney Sheldon)
2006: The Weatherman (Steve Thayer)
2005: To the Nines (Janet Evanovich)
Used in these Challenges: The Countdown Challenge; 100+ Reading Challenge 2009; 2009 Pub Challenge;Â  A-Z 2009 Challenge;