2021: #14 – The Witch Elm (Tana French)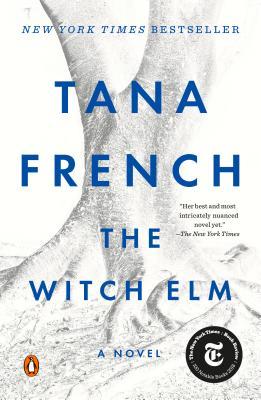 The Witch Elm
by
Tana French
Published by
Penguin Books
on July 30, 2019
Genres:
literary fiction
,
suspense thriller
Pages:
528


Toby is a happy-go-lucky charmer who's dodged a scrape at work and is celebrating with friends when the night takes a turn that will change his life – he surprises two burglars who beat him and leave him for dead. Struggling to recover from his injuries, beginning to understand that he might never be the same man again, he takes refuge at his family's ancestral home to care for his dying uncle Hugo. Then a skull is found in the trunk of an elm tree in the garden – and as detectives close in, Toby is forced to face the possibility that his past may not be what he has always believed.

A spellbinding standalone from one of the best suspense writers working today, The Witch Elm asks what we become, and what we're capable of, when we no longer know who we are.
I always remember that I love Tana French's books, but I always forget just how *much* I love her books until I pick up another one.
Toby has lived a charmed life where not much has gone wrong, until he comes home one night and is attacked and left for dead. He has survived, but not without a severe brain injury that has left him weaker, confused, and without full use of one hand and leg.
While he is home recovering, he finds out that his beloved Uncle Hugo, who he used to spend holidays and summers with along with his 2 cousins, has terminal brain cancer. When his cousin Susanna calls and asks him to consider moving in with Hugo to help him out Toby initially declines, but his girlfriend Melissa convinces him to give it a try, at least for a few weeks. So they move into the old family home with Hugo.
A few weeks turns into longer, as the family falls into the uncomfortable rhythm that happens when someone is sick and dying, but you just don't know when. The extended family, especially the cousins, are around often, and conversation turns to "what is going to happen to the house?" Until a skull is found in the witch elm in the garden, and things take a mighty turn.
There are many things that French does well. She knows how to write beautifully, and she knows how to write family dynamics. She's not afraid to give a story room to grow and breathe — I don't think anyone would ever refer to one of her books as fast-paced. She can spend an entire chapter on a single conversation, and keep you interested. And an extra twist in this story is that Toby is an unreliable narrator. Because of his brain injury, there are things he can't remember, and you can't always trust his impression of what is going on, especially when there are drugs or alcohol involved.
Though the mystery does go in some predictable directions, the book itself took some turns that I definitely was not expecting. It does not end up where I thought it would, at all.
I'll always pick up a Tana French book, without hesitation.
I read this for the following reading challenges:
Other reviews:
"There were several times where I had to stop reading convinced I had accidentally pressed the back button on my Kindle. I seemed to be rereading a thought, a passage, or a dialogue, not once, but several times. Reiteration was my biggest issue and it kept pulling me out of the story. There were times where continuing on with the book was a drudge." — (armedwithcoffee)
"I thought this book was a great read. Sure it was slow in spots (hence the 4 star rating) but on the whole I thought this was a smartly written mystery/thriller. The characters are well constructed and are active in the story, they don't just sit around and let the author tell them what to do—-their ability to come alive on the pages is a testament to French's ability as a writer." — The Lit Bitch
"The Witch Elm is an excellent read, as much literature as it is blood-spiking murder mystery. French really gets to the heart of things in this novel: her characters, her mysteries, and the society they exist in will all be ripped wide-open. A must-read." — Books & Bark