2009: #56 – Dark Places (Gillian Flynn)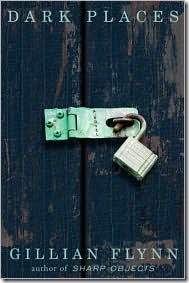 Book #56 was Dark Places by Gillian Flynn.  The back of the book reads:
I have a meanness inside me, real as an organ.

Libby Day was seven when her mother and two sisters were murdered in "The Satan Sacrifice of Kinnakee, Kansas." As her family lay dying, little Libby fled their tiny farmhouse into the freezing January snow. She lost some fingers and toes, but she survived–and famously testified that her fifteen-year-old brother, Ben, was the killer. Twenty-five years later, Ben sits in prison, and troubled Libby lives off the dregs of a trust created by well-wishers who've long forgotten her.

The Kill Club is a macabre secret society obsessed with notorious crimes. When they locate Libby and pump her for details–proof they hope may free Ben–Libby hatches a plan to profit off her tragic history. For a fee, she'll reconnect with the players from that night and report her findings to the club . . . and maybe she'll admit her testimony wasn't so solid after all.

As Libby's search takes her from shabby Missouri strip clubs to abandoned Oklahoma tourist towns, the narrative flashes back to January 2, 1985. The events of that day are relayed through the eyes of Libby's doomed family members–including Ben, a loner whose rage over his shiftless father and their failing farm have driven him into a disturbing friendship with the new girl in town. Piece by piece, the unimaginable truth emerges, and Libby finds herself right back where she started–on the run from a killer.
It's been a long time since the first two lines of a novel have grabbed me like these did:
I have a meanness inside me, real as an organ. Slit me at my belly and it might slide out, meaty and dark, drop on the floor so you could stomp on it.
Libby is not an easy character to like.  I don't think she's as mean as she portends to be, but at age 32 she's completely incapable of taking care of herself, expecting to live forever on the kindness of strangers, either through their charity or her thievery.  On the other hand, the majority of her family was killed horrifically when she was 7, and how should a person recover from that? I have to admit I warmed up to her a little as she tripped along, trying to piece together what happened that night. The back of the novel tries to sell you on the suspense of "Libby on the run from a killer", but that part happens so quickly that it's not where the suspense lies.  The suspense in this novel is in the shifting narrative between Libby's brother, Ben, and her mother, Patty. As the story unfolds, I think it ends up being not only about the actual events, but about how little you can know about such a tragedy. I never could have guessed how things actually happened.
Page count: 368 | Approximate word count: 92,000
2008: How I Live Now (Meg Rosoff)
2007: Basket Case (Carl Hiaasen)
2006: Fall on Your Knees (Ann-Marie MacDonald)
2005: Hard Eight (Janet Evanovich)
Used in these Challenges: The Countdown Challenge; 100+ Reading Challenge 2009; 2009 ARC Reading Challenge; 2009 Pub Challenge;