2009: The Sunday Salon – January Wrap-up Edition
It took me a couple of months, but I think I'm finally out of the slight reading slump I've been in.  It hadn't stopped me from reading, but it had kept me from picking up a book during my every spare moment.  I think that this month has finally lit that fire again. I finished 12 books:
It's hard to choose a favorite for the month, but there were a few that stuck out for me.  Claus was a standout, because it was an original story that was very well-written, and I invested a lot of time into reading it. I also particularly enjoyed Eclipse and Lord John and the Brotherhood of the Blade.  I can't say that there were any snoozers, which is a pretty good track record!
This was a good reading-related week for me. On Saturday, I had lunch with Kathy of Bermudaonion's Weblog, Jennifer of The Literate Housewife Review, and Miriam from Hachette Books. It was a ton of fun, and who knew I had such great book-blogging/publishing people so close to me!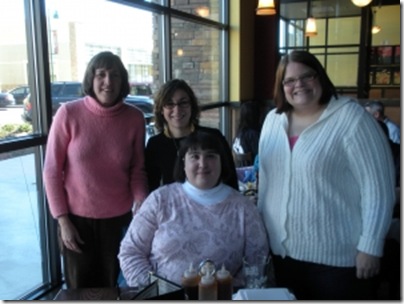 That's me seated, with Kathy, Miriam, and Jennifer (left to right) behind me, and the great Bull & Bones Brewhaus in Blacksburg.
I'm also having a giveaway right now! I'm giving away my ARC of The Charlemagne Pursuit by Steve Berry.  It's open until Thursday night, so please enter! There's 4 ways to win!
I finished off Upbound by Peter Hassebroek today, which I have to admit I wasn't that thrilled with.  I'll be writing my review either later tonight or tomorrow.  Following that I started College Girl by Patricia Weitz.  On audio I'm nearly finished with A Fistful of Charms by Kim Harrison.  Her Rachel Morgan series is in my top two series that I've read in the last couple of years.  I really, really like it.  I've been trying to find tasks at work I don't have to concentrate on too hard so I can listen! I will likely have it finished either tomorrow or Tuesday. And on my iPhone I'm reading Kiss of the Night by Sherrilyn Kenyon.  It's hard to tell how far along I am in it, but I'm at least halfway finished.  I'll probably have that finished off next week also.
I got some great books this week, but I'll leave that for my Mailbox Monday post tomorrow.
And speaking of tomorrow, it's my birthday!  No big plans, except dinner out with my husband. Happy Groundhog's Day everyone!