2009: #13 – Upbound (Peter Hassebroek)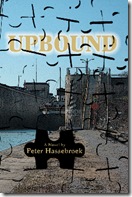 Book #13 was Upbound by Peter Hassebroek.  The back of the book reads:
Seven-year-old Karl Stevenson loves jigsaw puzzles, but he soon encounters a jumbo in real-life when his beloved Uncle Douglas unexpectedly dies. Suspicious circumstances surround the death, and Karl refuses to believe that his uncle is gone forever. It takes a casual remark by his babysitter to turn Karl down a different path. His newborn brother, Samuel, eerily has some of the same characteristics as Uncle Douglas. Could Samuel be his uncle reincarnated? Truly a hope worth exploring, Karl believes, unaware of the personal cost involved.

From childhood through his teen years, Karl grapples with his uncle's death and deals with family secrets and escalating resistance from those closest to him. With the pieces of the mystery slowly coming together, Karl must discover the truth, no matter the serious consequences to his family and friends-or to himself.

Set in the scenic Niagara Peninsula, where the Welland Canal climbs the Niagara Escarpment, this gripping novel shares one boy's quest to solve a puzzle of deathly proportions.
This was a decent first effort from a new novelist, but there were definitely some missing and weak elements here.  I felt that the entire story was a bit disjointed. I could have used some more timeline cues, because it was easy to lose track of how old Karl is supposed to be, especially early in the story.  The characters are also a bit flat, especially Karl's parents. I couldn't really bring myself to care about any of them. I feel like the story could have benefited from a tighter tie to the jigsaw puzzles Karl loved as a child.  There's a metaphor there that isn't explored sufficiently, just merely touched on at the beginning and the end.  Also, the whole reincarnation storyline doesn't carry throughout.  There are some interesting family secrets here, but the writing and coherency need a little polishing.
Page Count: 214 | Approximate word count: 53,500
2008: Midnight Rain (Holly Lisle)
2007: Weep Not For The Vampire (William Veselik)
2006: Bloody Bones (Laurell K. Hamilton)
2005: Mind Prey (John Sandford)
Used in these Challenges: 100+ Reading Challenge 2009; 2009 ARC Reading Challenge; The 999 Challenge; A-Z 2009 Challenge;