2010: #100 – The Strain (Guillermo del Toro & Chuck Hogan)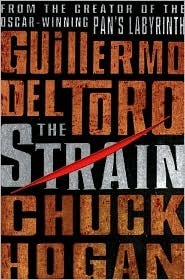 Book #100 was The Strain, the first book in the Strain trilogy by Guillermo del Toro and Chuck Hogan.  The back of the book reads:
A Boeing 777 arrives at JFK and is on its way across the tarmac, when it suddenly stops dead. All window shades are pulled down. All lights are out. All communication channels have gone quiet. Crews on the ground are lost for answers, but an alert goes out to the CDC. Dr. Eph Goodweather, head of their Canary project, a rapid-response team that investigates biological threats, gets the call and boards the plane. What he finds makes his blood run cold.

In a pawnshop in Spanish Harlem, a former professor and survivor of the Holocaust named Abraham Setrakian knows something is happening. And he knows the time has come, that a war is brewing…

So begins a battle of mammoth proportions as the vampiric virus that has infected New York begins to spill out into the streets. Eph, who is joined by Setrakian and a motley crew of fighters, must now find a way to stop the contagion and save his city–a city that includes his wife and son–before it is too late.
It's been a few weeks since I finished this, and I'm still not completely sure what I thought about it.  On one hand, it was a interesting, creepy twist on the vampire.  No brooding looks or sparkling skin here, just gore and horror. On the other hand, you could really tell that a screenwriter was one of the authors.  Things jumped around A LOT. There were many times when I just wanted to get back to our main heroes: Eph, Nora, and Setrakian. The reason we were following some of these secondary characters became clear in the end, but I still think some of the other scenes could have been cut. The book does end on a cliffhanger with little to no resolution, so that's something to keep in mind before you pick it up. I liked our core team of protagonists, so I'll probably pick up the second book to see what happens to them.  It's hard to imagine a way for New York to get out of this mess.
Other reviews:
That's What She Read: REVIEW – The Strain by Guillermo del Toro and Chuck Hogan
Fantasy Book Critic: "The Strain" by Guillermo del Toro and Chuck Hogan
The Strain by Guillermo Del Toro & Chuck Hogan : Book Review
Patricia's Vampire Notes: The Strain – Vampire Book Review
MariReads: Book Review- The Strain by Guillermo Del Toro and Chuck Hogan
Page count: 608 | Approximate word count: 152,000
2009: Practical Demonkeeping (Christopher Moore)
2008: The Dirty Secrets Club (Meg Gardiner)
2007: Fantasy Lover (Sherrilyn Kenyon)
2006: Final Target (Iris Johansen)
Used in these Challenges: 2010 100+ Reading Challenge; Pages Read Challenge Season 2; Four Month Challenge – Part 5; Countdown Challenge 2011;