2018: #6 – FantasticLand (Mike Bockoven)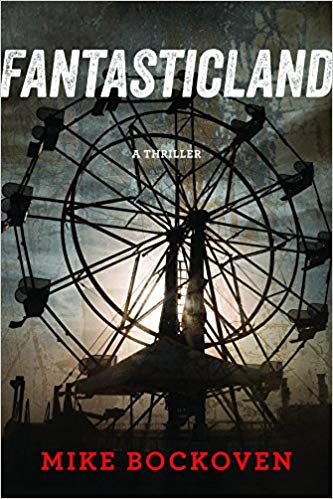 FantasticLand
by
Mike Bockoven
Published by
Skyhorse Publishing
on October 11, 2016
Genres:
horror
Pages:
272


Since the 1970s, FantasticLand has been the theme park where "Fun is Guaranteed!" But when a hurricane ravages the Florida coast and isolates the park, the employees find it anything but fun. Five weeks later, the authorities who rescue the survivors encounter a scene of horror. Photos soon emerge online of heads on spikes outside of rides and viscera and human bones littering the gift shops, breaking records for hits, views, likes, clicks, and shares. How could a group of survivors, mostly teenagers, commit such terrible acts?

Presented as a fact-finding investigation and a series of first-person interviews, FantasticLand pieces together the grisly series of events. Park policy was that the mostly college-aged employees surrender their electronic devices to preserve the authenticity of the FantasticLand experience. Cut off from the world and left on their own, the teenagers soon form rival tribes who viciously compete for food, medicine, social dominance, and even human flesh. This new social network divides the ravaged dreamland into territories ruled by the Pirates, the ShopGirls, the Freaks, and the Mole People. If meticulously curated online personas can replace private identities, what takes over when those constructs are lost? FantasticLand is a modern take on Lord of the Flies meets Battle Royale that probes the consequences of a social civilization built online.
This book was crazy, and I'm really glad I read it *after* I went to DisneyWorld, because it would have significantly altered how I look at the park if I'd read it before…
FantasticLand is a Disney/Universal-esque park near Daytona Beach, Florida, and it's in the path of the largest, fastest moving hurricane that's ever existed. But that's okay, because they have an emergency plan! A volunteer group of employees, most of them college-aged, will ride out the storm in an underground bunker, only to emerge and get the park back into working order as soon as possible.
At least, that was the plan. But the storm is much worse than anyone planned, and help is much slower in coming. And what happens in the wake of the storm is part Lord of the Flies, part Hunger Games, part Survivor, and entirely horrifying.
The format of the book gives it a feeling of intimacy. Each chapter is an interview with a survivor, and through their stories we try to piece together the truth of what happened in the park. I listened to the audio version of the book and found this format especially effective. The two voice actors did a really great job.
I only deduct a star because there was at least one minor plot line that I thought was extraneous. There was enough bad stuff going on without the specter of a possible serial killer hanging out there. Otherwise, this was a really solid novel, and it will forever alter how I look at theme parks and the people who work there.
Other reviews:
"Whether the violence escalation was realistic was not really my concern. I'm always a sucker for a good disaster or horror story and this book delivered. It's not for the faint of heart. You must like your disaster stories bloody, real bloody." — Netflix and Read
"Fantasticland has its moments, from the joking references to survivalist girl archers to the inevitable 'Which Tribe Are You?' Internet quizzes that pop up in the wake of the event, and of course, some gritty survival-horror that puts you in the situation and makes you think 'What would you do?' The problem is I just never found it believable that I would be in this situation." — Inverarity is not a Scottish village
"Obviously, the author is someone who's given serious thought to the effect—good and ill—"social" media has on us all, particularly those born after 1990. What happens when people in this age group are cut off from accessing the internet and expressing cyber-selves even partly at odds with who they really are?" — HellNotes