2010: #101 – Hollywood is Like High School With Money (Zoey Dean)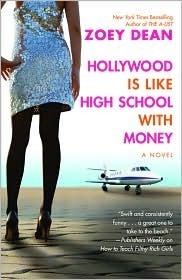 Book #101 was Hollywood is Like High School With Money by Zoey Dean.  The back of the book reads:
Twenty-four-year old Taylor Henning has just landed her dream job as an assistant at a major movie studio. But when her catty coworkers trick her into almost getting fired, she realizes that the old saying "Hollywood is like school with money" just may be true. The thing is, Taylor wasn't exactly a social butterfly in high school-how is she supposed to do any better the second time around?

That's when she meets her boss's popular sixteen-year-old daughter Quinn, and has an epiphany: maybe this teenager can teach her how to use her queen bee tactics to succeed in the Hollywood popularity contest. Quinn comes up with a plan to teach Taylor one lesson a week-everything from "Fake it 'til you make it" to "It's *never* your fault"–and soon Taylor finds herself winning the war against rival assistant Kylie. Until, that is, she's directed to steal Kylie's boyfriend, and something happens that's not in the game plan: Taylor falls for the guy. Now she must do the impossible– harness her inner mean girl while staying true to herself.
I have mixed feelings about this.  On one hand, it wasn't badly written.  The pace is good, the characters are colorful (though a little stereotypical), and it's a window into a world most people don't know anything about. On the other hand, the "mean girl" stuff doesn't sit well with me.  The fact that Taylor resorts to those sorts of tactics was enough to sour any good feelings I formed about her at the beginning.  Frankly, I thought her ending was a little more happy than she deserved.  I think what it really means is that this particular vein of chick-lit is not for me.
This book was a review copy.
Other reviews:
In Bed With Books: Review: Hollywood is Like High School With Money
Stop, Drop, and Read!: Hollywood is Like High School with Money by Zoey Dean
Thoughts from an Evil Overlord: Hollywood=HS+$
Page count: 288 | Approximate word count: 72,000
2009: Cleopatra's Daughter (Michelle Moran)
2008: Deja Dead (Kathy Reichs)
2007: Night Pleasures (Sherrilyn Kenyon)
2006: Vital Signs (Robin Cook)
Used in these Challenges: ARC Reading Challenge 2010; 2010 100+ Reading Challenge; Pages Read Challenge Season 2; Countdown Challenge 2011;