2009: #119 – True Blue (David Baldacci)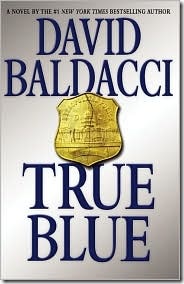 Book #119 was True Blue by David Baldacci.  The back of the book reads:
A mysterious high-profile homicide in the nation's capital collides with the dark side of national security in David Baldacci's new, heart-stopping thriller.

TRUE BLUE

Mason "Mace" Perry was a firebrand cop on the D.C. police force until she was kidnapped and framed for a crime. She lost everything-her badge, her career, her freedom-and spent two years in prison. Now she's back on the outside and focused on one mission: to be a cop once more. Her only shot to be a true blue again is to solve a major case on her own, and prove she has the right to wear the uniform. But even with her police chief sister on her side, she has to work in the shadows: A vindictive U.S. attorney is looking for any reason to send Mace back behind bars. Then Roy Kingman enters her life.

Roy is a young lawyer who aided the poor until he took a high-paying job at a law firm in Washington. Mace and Roy meet after he discovers the dead body of a female partner at the firm. As they investigate the death, they start uncovering surprising secrets from both the private and public world of the nation's capital.

Soon, what began as a fairly routine homicide takes a terrifying and unexpected turn-into something complex, diabolical, and possibly lethal.
I think this ranks up there as one of my favorite Baldacci books (though I don't think anything will ever top Wish You Well).  I hated Mace's name, especially the way the symbolism is pretty blatantly spelled out, but I liked her as a character.  Roy turned out to be a good partner for her — patient, steady, and with just a little bit of crazy to balance out her wild amount of crazy/reckless abandon/obsession.  The mystery does get a little bit confusing, as there are several layers of bad guys, but it's all spelled out pretty well at the end.  I do suspect that this isn't the last we've seen of Mace and Roy…. She still has a lot of questions she needs answered.
This book was a review copy.
Other reviews:
Booking Mama: Guest Review: True Blue
Joyfully Retired » Book Review: True Blue
True Blue by David Baldacci
Page count: 464 | Approximate word count: 116,000
2007: Devil May Cry (Sherrilyn Kenyon)
Used in these Challenges: Countdown Challenge 2010;