2011: #1 – Senseless (Mary Burton)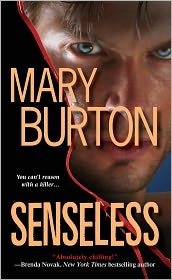 Book #1 of 2011 is Senseless by Mary Burton.  The back of the book reads:
The vicious burns scarring the victims' flesh reveal the agony of their last moments. Each woman was branded with a star, then stabbed through the heart. With every death, a vengeful killer finds a brief, blissful moment of calm. But soon it's time for the bloodshed to start again. Ten years ago, Eva Rayburn and her sorority sisters were celebrating the end of the school year. That party turned into a nightmare Eva can't forget. Now she's trying to start over in her Virginia hometown, but a new nightmare has begun. Every victim is linked to her. And Detective Deacon Garrison isn't sure whether this mysterious woman needs investigating – or protecting. Only Eva's death will bring peace. Only her tortured screams will silence the rage that has been building for ten long years. Because what started that night at the sorority can never be stopped – not until the last victim has been marked for death.
I was pleased with this.  It's labeled as a romantic suspense, but the romance happens fairly late in the book. That being said, I think it made it more believable, because we get the time to know Eva and Garrison and root for them to get together. Burton gives us a plot that's thorough without being overly complicated. She's also able to make us wonder about the true motives of almost every character, even those that should be solidly on the good side of things. I actually was unable to guess the true culprit, and that's a rarity for me. The only thing missing is a good sense of the setting.  We know it's in Alexandria, since a great deal is made of it, but I can't say that I learned anything about Alexandria.  It really could have happened anywhere.  But overall, if you enjoy suspense this is a great read.
This was a review copy.
Page count: 416 ('11 total: 416) | Approx. word count: 104,000 ('11 total: 104,000)
2010: The First Rule (Robert Crais)
2009: Eclipse (Richard North Patterson)
2008: Innocent in Death (J.D. Robb)
2007: Acceptable Risk (Robin Cook)
2006: Conspiracy in Death (J.D. Robb)
2005: The Poisonwood Bible (Barbara Kingsolver)
Used in these Challenges: Countdown Challenge 2011; ARC Reading Challenge 2011; Outdo Yourself Reading Challenge 2011;