2010: #108 – The Help (Kathryn Stockett)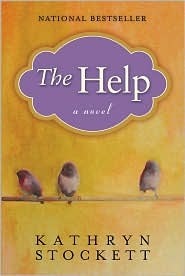 Book #108 was The Help by Kathryn Stockett.  The back of the book reads:
Three ordinary women are about to take one extraordinary step.

Twenty-two-year-old Skeeter has just returned home after graduating from Ole Miss. She may have a degree, but it is 1962, Mississippi, and her mother will not be happy till Skeeter has a ring on her finger. Skeeter would normally find solace with her beloved maid Constantine, the woman who raised her, but Constantine has disappeared and no one will tell Skeeter where she has gone.

Aibileen is a black maid, a wise, regal woman raising her seventeenth white child. Something has shifted inside her after the loss of her own son, who died while his bosses looked the other way. She is devoted to the little girl she looks after, though she knows both their hearts may be broken.

Minny, Aibileen's best friend, is short, fat, and perhaps the sassiest woman in Mississippi. She can cook like nobody's business, but she can't mind her tongue, so she's lost yet another job. Minny finally finds a position working for someone too new to town to know her reputation. But her new boss has secrets of her own.

Seemingly as different from one another as can be, these women will nonetheless come together for a clandestine project that will put them all at risk. And why? Because they are suffocating within the lines that define their town and their times. And sometimes lines are made to be crossed.

In pitch-perfect voices, Kathryn Stockett creates three extraordinary women whose determination to start a movement of their own forever changes a town, and the way women—mothers, daughters, caregivers, friends—view one another. A deeply moving novel filled with poignancy, humor, and hope, The Help is a timeless and universal story about the lines we abide by, and the ones we don't.
This book is every bit as good as everyone says it is. It's been a while since I've zipped through a book so quickly (just a few days, over Christmas). Who knows how accurate it is — accuracy isn't the point.  If I wanted 100% accuracy, I'd read non-fiction.  What's important is that we're given an intriguing story from three distinct points of view.  There's more to this book than a look at race relations in 1960s Mississippi.  It's also about class separation, relationships between parents and children, the limited options available to young woman, and the ways we let other people, whether they be family, friends, employers, or perfect strangers, control our lives.
Each main character gives us something different as each grows.  Skeeter finally finds the answers she's looking for. They're not the answers she wants, but they give her the courage to define her path and declare her intentions.  Aibileen finds new value in herself, and powers she never knew she had.  Minny learns that a smart mouth and strong attitude aren't enough to survive on.  I almost wish we had a couple more points of view — I would have loved to know what was in Elizabeth's or Celia's minds.
The likelihood of something similar to this storyline actually happening is relatively slim, but that's the nature of fiction. Authors push a situation to its most extreme, and that's what keeps us reading.
Other reviews:
The Help | 5 Minutes For Books
S. Krishna's Books: The Help – Kathryn Stockett [TSS]
The Help by Kathryn Stockett | Word Lily
Review: The Help by Kathryn Stockett « I'm Booking It
#229 ~ The Help (mini review) : literatehousewife.com
Page count: 464 | Approximate word count: 139,200
2009: Coyote Blue (Christopher Moore)
2007: Birds of a Feather (Jacqueline Winspear)
2006: The Body Farm (Patricia Cornwell)
Used in these Challenges: 2010 100+ Reading Challenge; Historical Fiction Reading Challenge; Pages Read Challenge Season 2; Four Month Challenge – Part 5; Countdown Challenge 2011;