2010: #107 – You Suck (Christopher Moore)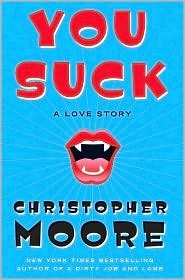 Book #107 was You Suck, the second in Christopher Moore's Love Story trilogy.  The back of the book reads:
Being undead sucks. Literally.

Just ask C. Thomas Flood. Waking up after a fantastic night unlike anything he's ever experienced, he discovers that his girlfriend, Jody, is a vampire. And surprise! Now he's one, too. For some couples, the whole biting-and-blood thing would have been a deal breaker. But Tommy and Jody are in love, and they vow to work through their issues.

But word has it that the vampire who initially nibbled on Jody wasn't supposed to be recruiting. Even worse, Tommy's erstwhile turkey-bowling pals are out to get him, at the urging of a blue-dyed Las Vegas call girl named (duh) Blue.

And that really sucks.
This was pretty entertaining, though it has its ups and downs.  The "up" was following Tommy in his first days of being a vampire, and how he and Jody figure out just what the implications of certain things are — especially since Jody is such a new vampire herself. The "down" was the Blue storyline. It just felt like a way to keep Tommy's old coworkers in the picture. Really, the best parts of the book were the chapters in the voice of Abby Normal, Tommy and Jody's 16-year-old goth minion. Just think of things a teenage goth would say, and then put them in the vernacular of a valley girl. Definitely the most entertaining voice in the book. The ending is a little weak, in an "oops, time to wrap everything up!" sort of way, but it's not a big deal. These are probably the best of Moore's books, so be prepared to laugh and laugh often.
Other reviews:
Christopher Moore: You Suck – Book Review
BookNAround: Review: You Suck by Christopher Moore
Review: You Suck by Christopher Moore » Life … With Books
Sassymonkey Reads » You Suck
You Suck: A Love Story by Christopher Moore « In the Shadow of Mt. TBR
Audiobook length: 7hrs 43min | Approximate word count: 88,000
2009: The Fury (Jason Pinter)
2008: The Charlemagne Pursuit (Steve Berry)
2007: Dead Certain (Mariah Stewart)
2006: Chase (Dean Koontz)
Used in these Challenges: 2010 100+ Reading Challenge; 2nd Reading Challenge; Audiobook Challenge; Countdown Challenge 2011;